Experience a day of paella with 'Mi Paella en el Huerto', an initiative that will make you part of this Spanish tradition.
Anyone who wants to visit Valencia cannot miss the opportunity to try one of its most authentic and famous dishes: paella. This dish leaves no soul indifferent due to its quality, flavour and history. If you were given the opportunity to learn how to cook authentic Valencian paella, would you refuse? Of course you wouldn't.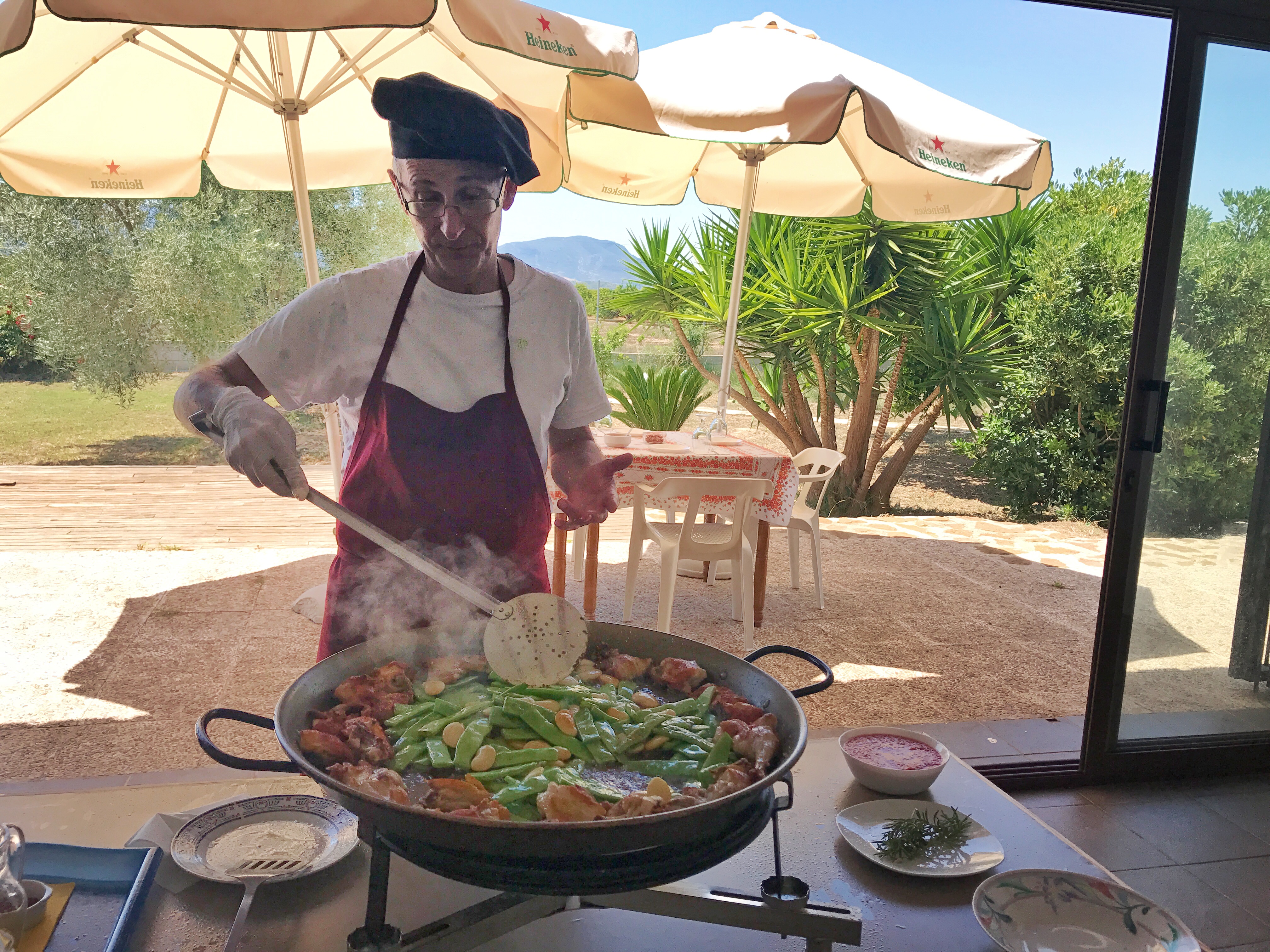 You will be amazed by the experience of cooking authentic Valencian paella just as Valencians do, and in the best setting: in stunning oranges and rice fields. It's not just about tasting and learning how to cook this dish, it's living a tradition: a day of paella. The place chosen for this experience is a welcoming country house, immersed in Valencian fruit gardens where you can take a break sipping beer or wine and tasting cold meats and locally sourced cheeses.
When we talk about doing a paella day, we mean diving into an experience. "Mi paella en el huerto" has everything you may require not only to cook the best paella on the market, but also to discover all the secrets and traditions of Spanish culture, food and history.
"Mi paella en el Huerto" is an innovative project. The story goes that paella was born in the area of ​​Sueca (Valencia), where the best rice was cultivated. "Mi Paella en el Huerto" is located right in this town, precisely in Riola, 30 minutes from Valencia, surrounded by authentic Valencian nature.
What does this experience include?
Transport service from your accommodation
A paella course with the chef's supervision
Aperitif with authentic Valencian tapas
Drinks
Local desserts and liquor
A certificate delivered to your accomodation/house
"Mi paella en el Huerto" welcomes

groups of friends, tourists, colleagues and families. The course is not just about learning how to cook paella but also to enjoy all that comes with it. Enjoy spectacular views, explore ecological crops and fall in love with Valencian culture and culinary arts. 
How does a paella day work? There are many hidden secrets, but we can assure you that the chef will not miss any detail for you discover, little by little, the rituals and curiosities that you can experience during this day. First, it begins with the preparation of the paella; while you're cooking, you can take a break with an aperitif made of local products. Once the paella is ready, it's time to enjoy the work you have done together accompanied by delicous house wine. And, finally, the dessert. The Valencian coca de llanda is a cake with mixed fruits accompanied by a sweet liquor, the Mistela.
At the end of the course, the chef will deliver your certificate that accredits you as a real paella ambassador. Warning! This certificate gives you responsibilities because it makes you a paella expert. Discover all the tricks, curiosities and secrets around this typical Valencian dish! Book now!
In addition, "Mi Paella en el Huerto" offers other activities and courses such as the Paella Course with Potato Tortilla and the Sangria Course. There is also the possibility of doing tours: a paella course with boat ride to the Albufera, a visit to the Natural Park or a Visit to Valencia.
You get the gist, Mi Paella en el Huerto is the perfect and fun way to get to know one of Valencia's oldest traditions. If you live here or visit the city for a few days, do not miss this unique opportunity.

You will fall in love with Valencia!