Hotels in Valencia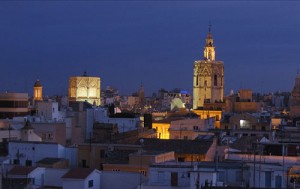 If you come to visit the city of Valencia and you need a place to stay, you can choose from a number of different hotels in Valencia. The city boasts a large variety of choices, there is something for everyone whether you are looking for a romantic getaway or family holiday, thus ensuring a comfortable and relaxing stay.
We present to you a list of hotels in Valencia classified by category, giving you endless options for your trip to the city:
Romantic Hotels in Valencia
If you are looking for a romantic weekend in Valencia or more specifically, a private getaway with your loved one, here are several romantic hotels in Valencia to choose from, with facilities including wellness spas, stunning views and dinners by candlelight.
Valencia Beach Hotels
If you want to spend a few days close to the beach, enjoying he smell of the ocean and the sand between your toes anytime of the day, check out a selection of the nearest hotels to the many Valencian beaches.
Valencia Hotels City Center
Valencia has an ancient, traditional town full of history and beauty. Get to know the hotspot hotels located in the city center for you to enjoy the best city getaway.
Visit Valencia and stay at one of the best hotels the city has to offer!