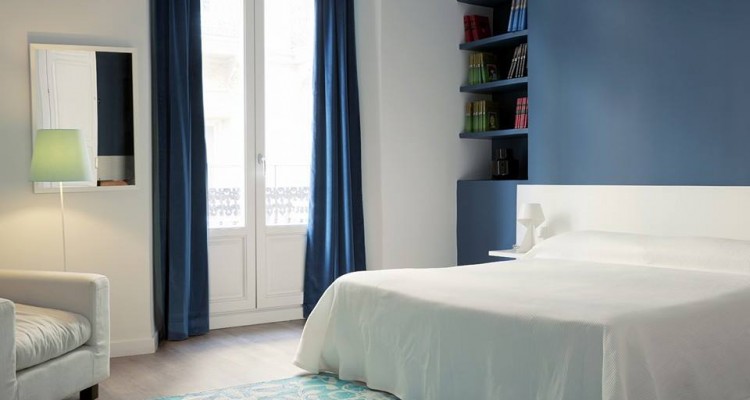 Where should you stay in Valencia if you prefer somewhere simple, easy, but most of all that makes you feel at home? The best solution we can recommend is one of our fantastic B&Bs in Valencia. As a boutique accommodation option, the many bed and breakfasts in the city reproduce an intimate and welcoming atmosphere. Offering sleeping arrangements with breakfast included, they are a great alternative for those seeking a comfortable base for their trip.
ABCyou Bed & Breakfast Valencia
Located in the Ruzafa neighbourhood, just minutes from the Plaza de Toros and the Valencia North Station, ABCyou Bed and Breakfast is a charming establishment run by a young Dutch couple who created a unique atmosphere in their B&B  by combining traditional and characteristic Valencian ceramic mosaics as a personal touch. With a pleasant garden where you can relax with a glass of wine, this B&B in Valencia has large, airy rooms, all air conditioned, with a private bathroom and free WiFi. They also cater for families and larger groups with more than two apartments suites. Don't miss out on breakfast! You can order a glass of freshly squeezed orange juice and homemade cakes served in the cafeteria.
Address =>Calle Taquigrafo Martí, 10 46005 Valencia.  Phone => 963 81 55 60
B&B Hi Cánovas Valencia
The B&B Hi Canovas Valencia is located in one of the most central and exclusive areas of Valencia, near the Turia Gardens. It is a bed and breakfast with simple and fresh features, friendly  staff, top quality cleanliness and excellent value for money. Different types of rooms are on offer (basic, standard or superior) for you to choose from; all ample and bright with modern furnishings and decorations, free wifi (as well as in common zone), heating, fan, TV, hair dryer, towels and shared or private bathrooms.
Address =>Calle de Cirilo Amorós, 82 46004 Valencia.  Phone => 962 06 66 04
L'Esplai  B&B Valencia
Located within a renovated historic building. L'Esplai Bed and Breakfast is in a convenient and comfortable location, in the heart of the Ciutat Vella. This B&B in Valencia pays attention to every detail in order to ensure a comfortable and pleasant stay. The property has six spacious rooms with private bathrooms, decorated differently from each other and drawing inspiration from different districts of Valencia. In some of the rooms you can even admire the original mosaic floorings. Among the services on offer at L'Esplai B&B Valencia, a daily cleaning service is provided as well as air conditioning, free wifi, books, magazines, computers, and the possibility to rent bicycles. The designated breakfast area is homely and provides a peaceful way to start the day.
Address =>Calle Luis Vives, 5-2° 46003 Valencia. Phone => 670 92 18 43
7 Moons B&B Valencia
Staying at the 7 Moons Valencia Bed & Breakfast would be an easy decision for any visitor to Valencia, thanks to its prime location close to major attractions in the city such as the Gardens of Turia and Valencia's city centre. The B&B, with its relaxing environment, is perfect for romantic getaways, family vacations or business trips. It has six rooms, including a suite with private terrace, all of which are furnished with a modern and elegant touch, equipped with free wifi, tv, fan, heating and shared or private bathrooms. The extras provided by the 7 Moons Bed & Breakfast include daily room service, laundry service, computer use, tourist information, ticket sales for the major attractions and finally an excellent, traditional, Valencian breakfast.
Address =>Avenida de Navarro Reverter, 13-1 46004 Valencia. Phone => 963 94 35 55
Come to Valencia and make sure to stay at one of the B&B in Valencia, discovering as much of the city as possible!