Be a part of this unforgettable, multisensory experience in nature that combines bird watching, culture, and wine
Binoculars, cameras, and of course, an unparalleled environment to delve into this beautiful world of nature and bird-watching: that's ACTIO Birding.  If you are a bird-watching aficionado, don't let yourself miss the bird-watching tours and excursions with ACTIO Birding- these are the best birding tours not only in the community of Valencia but in all of Spain.
ACTIO is a business whose tours are sustainable and based in social and environmental responsibility.  In all of their activities, they apply best practices recognized by the organization SEO Birdlife's initiative Iberaves: a push for the conservation of birds and their habitats through citizen awareness.
If you are looking for a day-trip near Valencia and you'd like to get into nature, ACTIO Birding is perfect for you.
Birding for Families is offered by ACTIO if you're looking to bring the kids on an educational and fun trip.  Among other trips offered are Gastronomic Bird Watching Tours, which combines birding with food and Spanish culture/history.
If you're looking to see what's outside of the Valencian Community, you can travel with ACTIO to more regions, such as Castilla La-Mancha, Aragón, and Andalucía.  These packages are complete with a guide, transportation, and accommodation; perfect for seeing birds like the lynx and birds of prey that are not in Valencia.
You can choose which of these activities is perfect for you in ACTIO's website (click the orange translate button if you want to view the page in English.)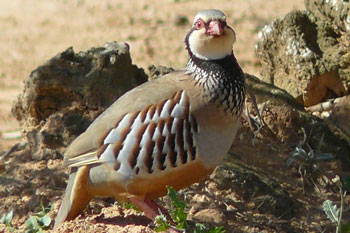 Birds & Wines, an unforgettable, multisensory experience
Who said that bird-watchers don't know how to enjoy the other pleasures life has to offer?  Or that wine lovers can't get in touch with their wild side?
Birds & Wines is a unique experience Monday through Friday that combines a day of birdwatching with quality wine tastings-the wine being made in the same place as where the birds live!
ACTIO Birding offers trips of 1 weekday as well as weekend trips to enjoy this pairing of birdwatching and wine.  On these trips, you will visit places that are great for both birding and winemaking.  The wine makers grow their grapes with the environment in mind.  They will even explain to you themselves how this proper practice is done as you taste the fruits of their labor!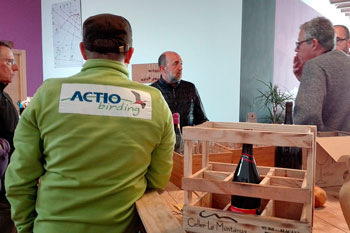 Packages include:
Transportation there and back from Valencia.
Pick-up in the airport, AVE train station, or hotel and transportation in their vehicle.
Birding guide equipped with a telescope for observation and binoculars for the participants.
Guided tasting of various wines.
In the 2-day program, accommodation with either 3 meals or 2 meals a day included.
Optional: Lunches in restaurants.
Destinations:
Tierra de Frontera: Utiel-Requena-Valencia
La Serranía: Alto Turia-Valencia
Microviñas: El Comtat-Alicante
Prat de Cabanes: Castellón
This is an activity that is also ideal for businesses and other groups that want to organize a unique event in the open air as a team building activity.
Nature, wines, and birds: live
Naturaleza, enología y aves, ¡experience ecotourism in the Valencian Community!
For more information and reservations you can send an email to [email protected] or call at +34 963 741 156 or at +34 666 078 893.