Find out more on the unique and incredible Albufera National Park in Valencia! It is a place that definitely deserves a visit.
Albufera, according to its origin al-buhayra, derives from the Arabic word small sea. In several Arabic poems, the phrase mirror of the sun appears regularly, a term indicating beauty and romanticism that personifies this part of the countryside.
Valencia's Albufera region is one of the largest and most valuable coastal wetlands to the Valencian community. In 1986 it was declared a Natural Park. Albufera plays an extremely important role towards the environment as many species nearing extinction habitat its lands, such as the toothed carp fish. You can discover this national park through one of the Albufera walking routes.
Albufera Park is made up of 6 islets, known as bushes, that are home to dense vegetation. These islets are called the Mata del Fang, Mateta de Baix, Mata de la Barra, Mata de l'Antina, Mata de San Roc y Mata del Rey in Spanish.
Size of the Albufera Park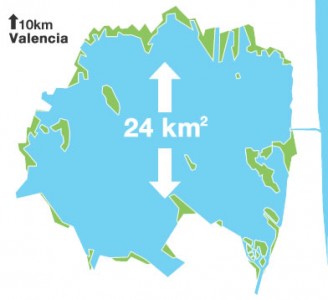 Situated 10 kilometres south of Valencia city.
Average depth of 1 metre.
Covers an area of around 24 km²
Surrounded by over 200 km² of rice fields.
Made up of numerous boroughs: 

Albal | Albalat de la Ribera | Alfafar | El Tremolar | Algemesí | Beniparrell | Catarroja | 

Cullera 

| Masanasa | Sedaví | Silla | Sollana | El Romaní | Sueca | Mareny Blau | Mareny de Barraquetes | Mareny de Vilches | Les Palmeres | El Perelló | El Pouet | Vega de Mar | Valencia | Castellar-Oliveral | 

El Palmar

 | El Perellonet | 

Pinedo

 | 

El Saler
History of Albufera, Valencia
The formation of Albufera occurred 1.8 million years ago as a result of the closure of a bay on the coast of Valencia by a spit. The distinct separation between Albufera and the sea was produced during the Roman era.
Since then, there has been a constant narrowing of Albufera. As a result of the Albufera depleting, there has also been a steady decrease of fauna habitating this area.
In 1865 the lake became the property of the State, putting an end to its pervious six centuries of private ownership. In those hundreds of years, Albufera was passed along from generation to generation. It wasn't until the 20th century that the lake became property of Valencia.
The Climate of Albufera
Albufera has a mediterranean climate of mild temperatures and humidity. The average temperature of this zone is 18ºC, with an average rainfall of 454mm per year where rainfall is most prominent in the autumn.
Albufera's Fauna and Flora
The fauna of Albufera in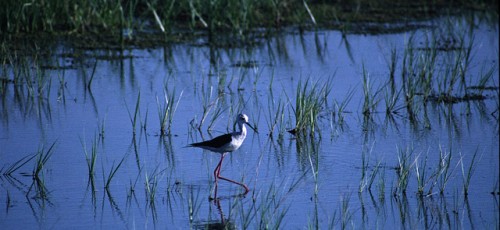 cludes a variety of species of fish, such as the tooth carp, eel, grey mullet and sea bass. However, Albufera National Park is known for its rich diversity of birds, including the red-crested pochard, Northern shoveler, heron, common tern, white stork and gulls.
Amongst the flora you can find: coastal dunes (sea bell, dune grass, buckthorn, mastic), salad plants, mediterranean forest (aleppo pine, mastic, juniper, oak, myrtle, thyme, rosemary and heart of palm) and zones full of cane.
More about Albufera
The uniqu
e beauty of Albufera National Park has given both tourists and locals from the area to visit its grace. Not to mention, its incredible views of the countryside during sunset!
Cañas y barrio, the celebrated novel by Valencian writer Vicente Blasco Ibáñez, sets the scene of Albufera during the beginning of the 20th century. The story accurately portrays the social reality of this time in a countryside setting.
The natural and stunning setting of Albufera has become an iconic view, captured by many, as the inspiration for their accounts of the area.