Here there is the list of the Public Libraries in Valencia
Valencia has 31 libraries, all spread across the city.  At least one is within walking distance from you pretty much all of the time. If you don't know where to study in Valencia or where to check-out books, the city has a very large selection of libraries.
Public libraries in Valencia are places with access to information, culture, and entertainment. They allow those who enter to read the latest novels, to check-out books, to study for exams, and to be used for leisure and as a quiet place. All municipal libraries have a free Wi-Fi network without a time limit. If you don't have a laptop or don't feel like bringing one, they also have computers with Internet access.
All of Valencia's neighborhoods have a library. All of the city libraries remain open all year long, with special schedules in summer.
Here we can find a list of all the public libraries in Valencia as well as their schedules, telephone numbers, and addresses.
All Public Libraries in Valencia are open Monday to Friday 9:00AM-8:30PM.
District 1: Ciutat Vella
Library of la Seu – Carles Ros
Address:

Plaça de la Mare de Déu, 1 – 46001 València

Telephone number:

962 084 508 – bcarlesros@valencia.es

How to get there:

Bus: line 80
Tram: lines 3,5,9 (stop at Colón)

WiFi: Yes
Air conditioner: Yes
District 2: L'Eixample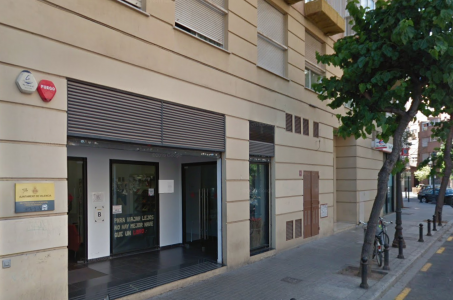 Library of Russafa – Nova Al-Russafí
C/ del Poeta Al-Russafí, 2/4 – 46006 València

Telephone number:

962 084 292- bnoval-russafi@valencia.es

Bus 14, 15, 35; Metro Bailén, 3 + 7

WiFi: Yes
Air conditioner: Yes
Sala d'estudi Al-Russafí
Address:

Matíes Perelló, 5/7- 46005 València

Telephone number:

962 084 289 – bnoval-russafi@valencia.es

How to get there:

Bus: lines 14, 15, 35, 19

WiFi: Yes
Air conditioner: Yes
District 3: Extramurs
Library of Botànic – Maria Beneyto
Address:

C/ Padre Manjón, 1  – 46008 València

Telephone number:

963 922 807 – bmariabeneyto@valencia.es

How to get there:
WiFi: Yes
Air conditioner: Yes
Library of Petxina – La Petxina
Address:

C/ Petxina, 42 –  46008 València

Telephone number:

962 082 784 – bpetxina@valencia.es

How to get there:

Bus: lines 95, 29, 90, 67, 81

WiFi: Yes
Air conditioner: Yes
Library of Arrancapins – Eduard Escalante
Address:

C/ d'Alberic, 18 – 46008 València

Telephone number:

 962 084 520 -beduardescalante@valencia.es

How to get there:

Bus: lines 70,72,67
Tram: lines 3,5,9

WiFi: Yes
Air conditioner: Yes
District 4: Campanar
Library of Sant Pau – Francesc Almela i Vives
Address:

C/ Escultor Miquel Navarro, 3  – 46015 València

Telephone number:

963 482 771 – bfrancescalmela@valencia.es

How to get there:
WiFi: Yes
Air conditioner: Yes
District 5: La Saïda
Library of Marxalenes – Joanot Martorell
Address:

Parque de Marxalenes. C/ Reus S/N. – 46009 València

Telephone number:

963 483 269 – bjoanotmartorell@valencia.es

How to get there:

Bus: lines 8, 28
Tram: line 4

WiFi: Yes
Air conditioner: Yes
District 6: El Pla del Real
Library of Exposició – Palau de l'Exposició
Address:

C/ Galicia, 1 – 46010 València

Telephone number:

962 084 491 bpalauexposicio@valencia.es

How to get there:

Bus: lines 9, 29, 32, 81, 1, 6, 11, 16, 26, 28, 31, 70, 95
Metro: 3, 5, 7, 9

WiFi: Yes
Air conditioner: Yes
District 7: L'Olivereta
Library of  Tres Forques – Lluís Fullana i Mira
Address:

Plaça de Magúncia, 1 – 46018 València

Telephone number:

962 084 585 blluisfullana@valencia.es

How to get there:
WiFi: Yes
Air conditioner: Yes
Library of Fontsanta – Vicent Boix i Ricarte
Address:

 C/ de l´Escultor Salzillo, 12 – 46014 València

Telephone number:

963 791 523 – bvicentboix@valencia.es

How to get there:
WiFi: Yes
Air conditioner: Yes
District 8: Patraix
Library of Patraix – Azorín
Address:

C/ de l´Assagador de les Monges, s/n – 46018 València

Telephone number:

963 577 694 – bazorin@valencia.es

How to get there:

Bus: lines 11, 9, 71
Tram: line 1/2

WiFi: Yes
Air conditioner: Yes
District 9: Jesús
Library of Raiosa – Germana de Foix
Address:

Av. Giorgeta, 18 – 46007 València

Telephone number:

963 422 744 – bgermanadefoix@valencia.es

How to get there:

Bus: lines 10, 9
Metro: Stop Joaquín Sorolla-Jesús, lines 1, 3, 7

WiFi: Yes
Air conditioner: Yes
Library Sant Marcel·lí – Camí Real – Clara Santiró i Font
Address:

Centre Cultural La Rambleta, C/ Pius IX, 2 – 46017 València

Telephone number:

962 082 718 bclarasantiro@valencia.es

How to get there:
WiFi: Yes
Air conditioner: Yes
District 10: Quatre Carreres
Library of Malilla – Roís de Corella
Address:

C/ L'Illa Cabrera, 52 – 46026 València

Telephone number:

963 737 533 – broisdecorella@valencia.es

How to get there:
WiFi: Yes
Air conditioner: Yes
Library of Na Rovella – Joaquim Martí i Gadea
Address:

C/ de l'Arabista Ambrosio Huici, s/n – 46013 València

Telephone number:

962 084 098 bjoaquimmarti@valencia.es

How to get there:
WiFi: Yes
Air conditioner: Yes
District 11: Poblats Maritims
Library of Grau – Constantí Llombart
Address:

C/ del Dr. J.J. Dòmine, 19 – 46011 València

Telephone number:

962 084 298 bconstantillombart@valencia.es

How to get there:

Bus: lines 2, 4, 19, 20, 30
Tram: station Grau – Canyamelar, lines 5, 6, 9

WiFi: Yes
Air conditioner: Yes
Library of  Cabanyal – el Canyamelar – Casa de la Reina
Address:

C/ de la Reina, 85 – 46011 València

Telephone number:

963 715 292 – bcasadelareina@valencia.es

How to get there:

Bus: lines 19, 2, 32
Tram: line 6

WiFi: Yes
Air conditioner: Yes
Library of  Natzaret – Del Mar
Address:

C/ de Fontilles, 35 – 46024 València

Telephone number:

962 087 421 bdelmar@valencia.es

How to get there:
WiFi: Yes
Air conditioner: Yes
District 12: Camins al Grau
Library of Aiora – Vicent Casp i Verger
Address:

C/ de Peris Brell, 6 – 46022 València

Telephone number:

963 301 473 bvicentcasp@valencia.es

How to get there:

Bus: lines 2,3, 4, 30, 35

WiFi: Yes
Air conditioner: Yes
Library of La Creu del Grau – Gregori Maians i Siscar
Address:

C/ de Trafalgar, 34 – 46023 València

Telephone number:

962 082 735 – bgregorimaians@valencia.es

How to get there:

Bus: lines 71, 81,
Tram: line 4

WiFi: Yes
Air conditioner: Yes
District 13: Algirós
Library of Amistat – Tomàs Vicent Tosca
Address:

C/ de Iecla, 12 – 46021 València

Telephone number:

962 082 739 – btomasvicent@valencia.es

How to get there:

Bus: lines 32, 18, 89
Metro: 5, 7

WiFi: Yes
Air conditioner: Yes
Library of De la Vega Baixa – Maria Moliner
Address:

C/ del Serpis, 9-11 – 46021 València

Telephone number:

963 931 333 – bmariamoliner@valencia.es

How to get there:

Bus: lines 30, 31, 71, 81, 40
Tram: lines 4, 6

WiFi: Yes
Air conditioner: Yes
District 14: Benimaclet
Library of  Benimaclet – Carola Reig
Address:

C/ de Francesc Martínez, 32-34 – 46020 València

Telephone number:

962 084 302 – bcarolareig@valencia.es

How to get there:

Bus: lines 12, 70
Tram: lines 4, 6
Metro: lines 3, 9

WiFi: Yes
Air conditioner: Yes
District 15: Rascanya
Library of Orriols – Josep Maria Bayarri
Address:

C/ de Sant Joan Bosco, 71 – 46019 València

Telephone number:

963 668 085 – bjosepmbayarri@valencia.es

How to get there:

Bus: lines 16, 11
Tram: lines 4, 6

WiFi: Yes
Air conditioner: Yes
Library of  Torrefiel – Isabel de Villena
Address:

C/ de Domènec Gómez, 35-37 – 46025 València

Telephone number:

962 087 531 – bisabeldevillena@valencia.es

How to get there:

Bus: lines 64, 60, 89, 26

WiFi: Yes
Air conditioner: Yes
District 16: Benicalap
Library of Ciutat Fallera – Vicent Tortosa i Biosca
Address:

C/ del Ninot, 24 – 46025 València

Telephone number:

961 935 064 – bvtortosa@valencia.es

How to get there:
WiFi: Yes
Air conditioner: Yes
Library of Benicalap – Carmelina Sánchez-Cutillas
Address:

C/ del Poeta Serrano Clavero, 40 – 46025 València

Telephone number:

962 083 601 – bcarmelinasanchez@valencia.es

How to get there:

Bus: lines 12, 64
Tram: line 4

WiFi: Yes
Air conditioner: Yes
District 18: Pobles de L´Oest
Library of Benimàmet – Teodor Llorente
Address:

C/ del Campament, 64 – 46035 València

Telephone number:

963 642 996 – bteodorllorente@valencia.es

How to get there:
WiFi: Yes
Air conditioner: Yes
Library of Beniferri – Joan de Timoneda
Address:

C/ del Xiprers, s/n – 46015 València

Telephone number:

963 400 896 – bjoantimoneda@valencia.es

How to get there:
WiFi: Yes
Air conditioner: Yes
District 19: Pobles del Sud
Library of La Torre – Joan Churat i Saurí
Address:

C/ del Castell de Cullera, 16 – 46017 València

Telephone number:

963 292 086 – bjchurat@valencia.es

How to get there:
WiFi: Yes
Air conditioner: Yes
Map of the public libraries in Valencia