There is plenty of room for vegetarians in the Valencian cuisine
The Restaurants in Valencia have pretty much everything you're looking for. Whether you're a carnivore or a vegetarian, the food at these vegetarian restaurants is sure to satisfy and leave you wanting to try more meat-free options. Here is a list of the local vegetarian restaurants here in the heart of the Mediterranean.
La Tasta Olletes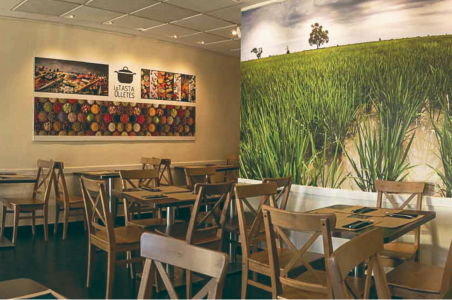 Locals will say that this is the best vegetarian restaurant in Valencia. It is known for its tasty homemade food and big portions.
La Tasta Olletes is known for its typical Valencian dish "fideua", consisting noodles, veggies, and broth.  Also on the menu is vegetable lasagna, curry, and beet hummus. Our recommendation is their moussaka or lasagna with mushrooms- the house specialities. This restaurant is appealing to vegetarians as well as carnivores.
The restaurant is located on Calle Salvador Giner 6, El Carmen (Valencia)
Les Maduixes
This vegetarian restaurant has been open since 1986. At Les Maduixes you feel at home- the service is excellent and the food is lovely.
All of the vegetarian dishes are great: la reganyà (a spongey cake with raisins and nuts), moussaka, and ravioli with pumpkin sauce. Enjoy this vegetarian restaurant in Valencia today!
Les Maduixes is located at Calle Daoiz y Velarde 4, Valencia
La Lluna
La Lluna is a very cozy vegetarian restaurant with a bohemian vibe and homey feeling in El Carmen. It offers a lunch menu and a tasting menu. There are plenty of vegan and gluten-free options.
Some of the dishes that make this vegetarian restaurant stand out include: vegetable lasagna, croquettes, and stuffed eggplant.
La Lluna can be found at Calle San Ramón, 23 Valencia (Neighbourhood del Carmen).
Copenhaugen
This vegetarian restaurant is very famous in the Ruzafa neighborhood. They present a menu with more than 30 items, including appetizers, first and second courses, and desserts.
According to the locals that frequent Copenhaugen, the best dishes include guacamole with yucca, rice with curry, boletus croquettes with hazelnuts, and veggie burgers.  The setting of the restaurant is modern, simple and beautiful, and the dishes are original and tasty. They also post their daily menu on their website so you can decide looks good on the way!
Copenhaguen is located at Calle Literato Azorín 8, Valencia.
Ana Eva
Ana Eva is a vegetarian restaurant that is known for its unique salads, crepes, moussaka, and croquettes. This is a classic vegetarian restaurant in Valencia, and is visited by both locals and tourists.
At Ana Eva there's a lunch menu, a special menu for vegans, another that's gluten-free, and menus specifically for groups. It is vegetarian food of quality prepared with organic, seasonal products.
Ana Eva can be found at Calle Turia 49, Valencia