La Sénia is located in the Historic Centrer of Valencia, next to "la Lonja de la Seda" (the old Silk Exchange) and the Central Market, La Senia is a cosy little corner where you can enjoy the best Mediterranean Gastronomy and authentic Cuisine from the Central Market.
Taberna La Sénia, which has been recommended in the Michelin Guide since 2014, is located in the Carmen neighbourhood, in the Historic Centre of Valencia, behind "la Lonja de la Seda" and very near the Central Market.
The Sénia takes its name from the street where it is located and where in the old days a Cenia, or 'Sénia' in Valencian, existed (an ancient typical water mill from the Mediterranean area), They have a varied selection of Tapas on the menu which are cooked on being ordered with fresh products which are supplied daily from the Central Market of Valencia.
In The Sénia they combine Traditional Mediterranean Cuisine with their own particular and unique touch based on the preference for local, fresh, high quality produce.
Among their specialties you can find the delicious Homemade Paté which is based on an old recipe from the Tuscany area of Italy. You can also enjoy their excellent Tomatoes which come directly from the local Valencian fields accompanied with Bonito (tuna), the originals Cuttlefish Tagliatelle with homemade Pesto or their Anchovies with Orange Coulis and Vermouth.
Furthermore in The Sénia they have several dishes which are suitable for Celiacs, as well as Beers and Desserts without gluten, characteristics that make it a very appealing place for those who think that to eat healthily, is to eat well and to eat well, is to eat healthily.
And to complete their interesting gastronomic proposal,The Sénia has a varied and not at all conventional selection of Wines by the glass and Craft Vermouths.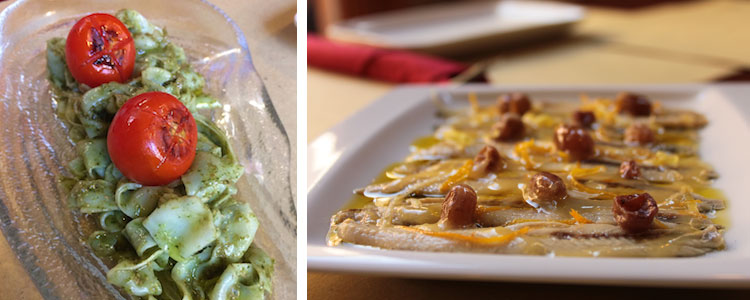 Their ideal exterior terrace has become one of the most attractive current places to spend the afternoons in the Carmen Neighbourhood. The best evenings can be had here with Cocktails, their original "Café del Tiempo" (traditional cold Valencian style coffee) , Vermouths, or their tempting craft ice creams.
In addition, at midday you can also enjoy lunch and brunchs on Mondays, Thursdays, Fridays and all weekend. Forget about repetitive menus and enjoy fresh quality products also for lunch in the city center.
Taberna La Sénia is located in La Cenia Street 2, in the neighbourhood of Barrio del Carmen, (ZIP 46001)  in the heart of the Historic Center of Valencia, in the same place that in the past were a secondhand bookshop.
Their Opening Time is Monday and Thursday from 12:00 PM to 17:00 PM and 19:00 PM to 00:00 AM, Tuesday and Wednesday from 19:00 PM to 00:00 PM and Friday, Saturday and Sunday from 12:00 PM to 0:00 AM. You will also find them in Facebook, Twitter, Instagram, Google+ or Pinterest.
La Sénia is Gastronomic Culture, Creative and Traditional Tapas, Wine Selection by the glass, Beers and Artisan Vermouth with the base of the authentic Mediterranean Gastronomy and the best Market Cusine.