Get to know the best areas to live in Valencia if you're a student; the coolest neighborhoods in the city
Valencia is a city that has a lot to offer. There is a good climate, it is easy to move around in the city and there are also many cultural and leisure activities in Valencia. The many festivities – such as the Fallas in Valencia and the Night of San Juan, amongst others – and its fantastic geographical location – between beaches and mountains – which isn't complained about a lot and attracts hundreds of visitors, year after year. However, if you are looking to enjoy Valencia to the fullest and you decide to live in Valencia, you may have some doubts about where to live in Valencia.
Students, take notes! Because here we present you a selection of the best neighborhoods for students in Valencia. Out of all the districts in Valencia, these are the coolest areas in the city, full of life and leisure. Discover them! And once you have decided what your favorite neighborhood in Valencia is, at Uniplaces you can find the best places for students; so you can make the best out of your stay in the city.
Where to live in Valencia as a student
L'Eixample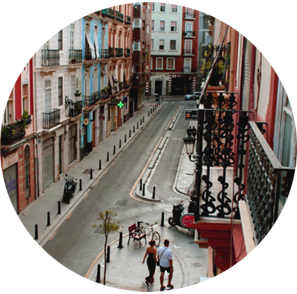 In the centre of the city, you can find L'Eixample (Ensanche in Valencian). This neighborhood consists of the neighborhoods Ruzafa, El Pla del Remei and Gran Vía. The central location of this neighborhoods makes it able for you to easily move around the city, because of all the bus- and metro lines you can find in this district.
Especially Ruzafa has  become one of the coolest neighborhoods in Valencia. If you ask someone where to go out in Valencia, they will probably tell you to go out in Ruzafa. Bars, art galleries, shops, pubs and clubs: Ruzafa has it all! No wonder it is one of the most upcoming neighborhoods, full of young people and a lot of leisure.
Check out the map of L'Eixample
Algirós
If you are looking to live close to the University area, Algirós is your solution. It is an area with parks, wide sidewalks and where you can find many other students in Valencia. Nearby are the campus of Blasco Ibáñez and the Taronjers of the University of Valencia. In this district it is very easy to find a flat to share with other students.
In addition, living in a student district is ideal, as there are many cultural activities to do each day in one of the many bars in that area, such as the language exchange bars. In each district that forms Algirós (L'Illa Perduda, Ciuat Jardí, L'Amistat, La Bega Baixa and La Carrasca) you can find young people and a good atmosphere.
Make sure you take a look at the map of Algirós
Poblats Marítims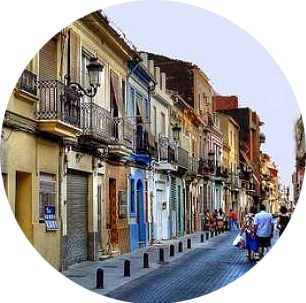 Poblats Marítims is, bit by bit, starting to become another very cool neighborhood in Valencia to live in if you are a student. Here you can find affordable rental places.
This is the coastal district of Valencia, so if you love the sea and the warmth, this is the neighborhood you are looking for. Without any doubt, this area is most ideal to enjoy the beaches in Valencia. Although this neighborhood is not very close to the city centre of Valencia, the public transport connections are perfectly fine (metro, bus and trams)
In terms of leisure, going out in the Puerto offers you a lot of options; clubs, pubs and restaurants that all look out on the sea.
Here you can find the map of Poblats Marítims
Ciutat Vella
In this selection of the best neighborhoods for Students in Valencia, we cannot not mention this area: Ciutat Vella.
This is the oldest part of Valencia and therefore also the most touristic part of the city. Monuments, museums, theaters, bars… This neighborhood has everything! You can walk to el Carmen to go out there and that might be one of the best things of living in Ciutat Vella. Streets that are just like mazes and old houses are what make this neighborhood in Valencia as it is. It is also an area where you can find a lot of foreigners and Erasmus students;  both just paying a visit to the city.
Don't forget to check out the map of Ciutat Vella.