Take a look at our virtual tour of Valencia's city center where you can stop at many of the city's ancient monuments.
For those looking to explore the city of Valencia on foot, follow one of our suggested tours in Valencia so you don't miss a thing! Enjoy Valencia by discovering the beauty and peculiarity of the historical centre of the city and discover what to do in Valencia.
Walking Route through Valencia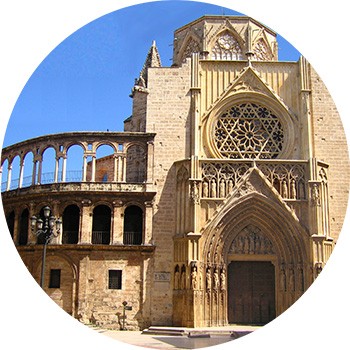 What to do in Valencia? Here we offer a route to Valencia that will lead you through the maze of one of the most charismatic historic centres of Europe- the Ciutat Vella of Valencia, where different architectural and artistic styles come together:
"Ciudad Vieja 1": this route will take you straight to the heart of the old city of Valencia.
We start from the Plaza de la Virgen, which has been the heart of the city since ancient times. This plaza is home to the Cathedral of Valencia, the Vestuario house- a neoclassical building that was used in ancient times by the high dignitaries of the court as a dressing room before church services, and the Basilica de Nuestra Señora de los Desamparados- built for what was considered the patron saint of Valencia. In front of the church you can find the oldest establishment of oral justice in Europe, a declaration of cultural heritage where irrevocable judgments were issued regarding disputes about water irrigation between local farmers.
Valencia Old Town
Nearby, on Calle Almudín, you will see an archaeological dell'Almoina fence; an area of finds from all eras where excavations have reached the city of Valencia and have been converted into a unique museum that traces the times gone by of the city. Close to dell'Almoina is the must-see Almudín, the once old grain storehouse of Valencia.
The next stop on the route are the Serranos Towers, which are situated between the port and the Palace Benicarlò. The towers are built in Gothic style and was the medieval residence of the Borgia family. Near the Serranos Towers stands one of the twelve gates that guarded the ancient walled-enclosed city-the significant Casa de las Rocas. It was built to serve as a repository for wagons that accompanied the procession of the corpus. Returning to the centre of the city, is the Palace Batlía, a medieval building of the fifteenth century.
Moving towards Calle Caballeros, passing through different buildings and decaying houses, we come to the Plaza del Tossal- a square with a small underground museum with the remains of the city's wall. Near the Plaza del Tossal is the Plaza Sant Jaume, which is divided into two roads that lead into the popular Barrio del Carmen. Here marks the end of tour of the city where you can enjoy one of the many restaurants, shops, or cafes.