La Tomatina is event for you to get down and dirty. Here is what we suggest for you to wear during the battle of tomatoes.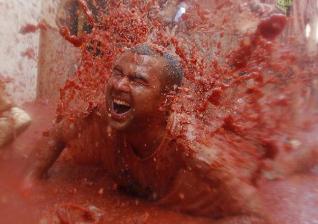 Surely if you plan on attending La Tomatina, you are also planning on getting dirty. Here are the best items for you to wear during this tomato fight.
Wear slip resistant shoes or shoes with grip for most comfortability. Wear old shoes that you don't mind getting dirty. Don't wear sandals.
Wear old clothes that you are willing to throw out. There is a possibility your clothes will rip or get lost in the crowd
Wear a bathing suit underneath. Some other festival goers will rip the clothes of others so be sure to have something on underneath.
Wear goggles to protect your eyes from tomato acidity.