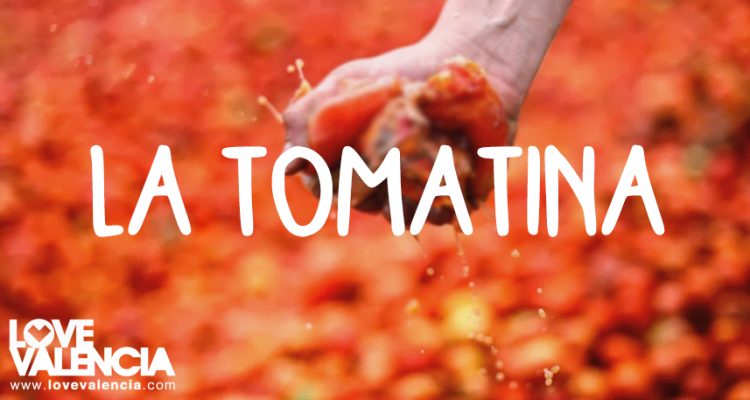 La Tomatina is one of many Spain festivals that is internationally known for its uniqueness, spontaneity, and absurdity. Also known as the Tomato Festival, thousands of people gather once a year to participate in a citywide tomato fight. The Tomatina Festival in Bunol, Spain, just 40 km/ 25 miles westward of Valencia, is celebrated every year on the last Wednesday of August. This year the festival will commence August 30th at 11:00 a.m with the denotation of a firework.
For one hour of completely controlled chaos, participants will be able to launch tomatoes in every nook and cranny of designated "tomatina zones" and enjoy this once in a lifetime experience.
Here we present you Tomatina info, a bit of Tomatina history, and other guidelines on how to fully enjoy this tomato throwing festival. Read more about Tomatina fun facts.
Tickets to La Tomatina 2019
To control the influx of visitors to the city and to sustain the quality of life, Bunol requires attendees to buy an entry ticket.
Tickets sales contribute to the census of visitors entering Bunol on this day and it also maintains the security that keeps the festival organized.
How to get to La Tomatina From Valencia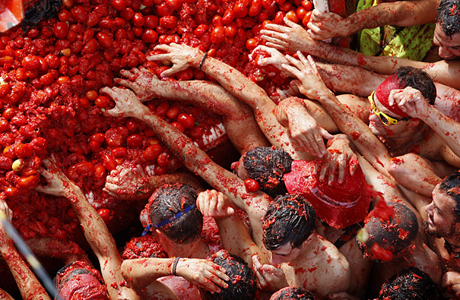 Bunol is about a 30 minute drive from Valencia. Public transportation however makes it easy for visitors without cars to access the city.
Discover how to get to La Tomatina from Valencia.
Access Plan for La Tomatina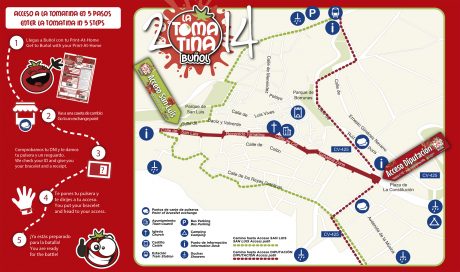 The Tomatina uses the same access plan from the previous years. Only one street is designated for the tomato fight which can be denoted by the red line on the map. On this street, trucks filled with tomatoes will also be driving through the masses to supply the squishy red grenades.
As a reminder, La Tomatina begins at 11:00 a.m. but street access for cars close at 7:00 a.m., thus the only way of transportation within the city is by foot. If you are not local, discover where to stay in Bunol.
La Tomatina History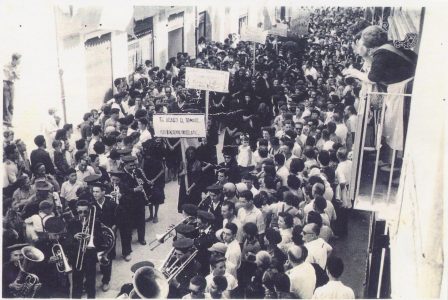 The history of the festival dates back to 1945 when a group of young adults attended a parade that was held on the last Wednesday of August.
In an attempt to ride one of the floats, one of the group's member fell and was thrown onto the ground. In his anger, the boy grabbed the closest object near him, a tomato from a vegetable stand, and threw it into the crowd. His action initiated a tomato fight between other attendees until it was interrupted by public officials.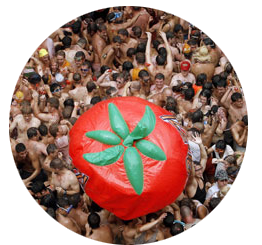 The following year the same group of young adults returned to the parade but this time brought their own tomatoes voluntarily.
Throughout the decades this tomato fest has been banned under different governments but has always been brought back due to its popularity among citizens.
In 2002, La Tomatina was declared a Festival of International Tourist Interest of Spain by the Secretary Department of Tourism.
La Tomatina for Kids 2019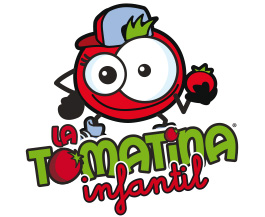 For a fourth consecutive year, the Tomatina festival will be continuing its Tomatina for Kids 2019.
Children aged 4 to 14 years can participate in their own specialized event in the Plaza de Pueblos (Town Square).
This event will take place before the actual festival, last was Saturday, August 22th at 12:00 p.m. This year is yet to be announced. Stay tuned!!