Altea is a charming coastal town in Alicante, Spain, which has beautiful streets and beaches you could only dream of. Check it out!
Altea is a coastal town in the province Alicante, close to Calpe and l'Alfàs del Pi. Its name could originate from the Greek Althaea, which means "I cure", or the Arabic word attálaya which comes from the Valencian word "Talaia"; it is not clear what it originates from.
When it comes to the tourism in the Community of Valencia, Altea stands out, because of its charm, quality beaches and also because of the history Altea steeped in. Visit Altea to escape. Here we recommend you some of its corners; the tourism in Valencia is an experience you must live.
What to see in Altea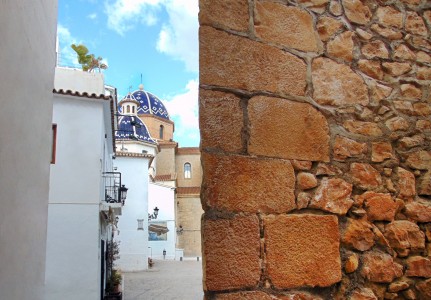 Altea is the only town with an important tradition and counts many important historical characters, like the painters Benjamín Palencia and Rafael Ruiz Balerdi, and both national and international figures such as Eberhard Schlotter, Rafael Alberti, Vincente Blaso Ibañez and Josh Rouse. What made them all fall in love with the place? We provide you with the most important things of the tourism in Altea:
The historical center. The historical center of Altea is directed towards Iglesia Parroquial de la Virgen del Consuelo, a very important church in Altea, with two beautiful domes, covered in blue and white tiles of ceramic glaze. The historical center of Altea is surrounded by old houses with white facades, paved grounds and stepped streets, beach viewpoints and balconies full with geraniums and jasmines that form an impressive setting which is incredible to view and perfect for a quiet ride.
The beaches of Altea. In the more than 6 km of coast Altea has, there are alternate sections of traditional beaches with coves and zones with cliffs. For instance, beach La Olla is a tranquil rocky beach, while La Roda is much more crowded and has a path with many restaurants in Altea where you can eat the local gastronomy. Cap Negret, La Solsida and La Platja del Mascarat are other beaches in Altea you can visit to enjoy when you have the time.
How to get to Altea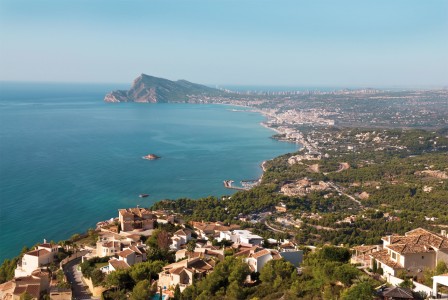 From the city of Valencia, the fastest way to reach Altea is through the freeway AP-7, take exit 64, which will take you to Altea. The highway N-332 (Valencia-Alicante) also crosses the city of Altea and public transport is also an option, as Altea has a railway station at which you have t take the stop Alicante-Dénia. Besides that, the bus line ALSA connects with all the cities in Spain and also has a station in Altea. Last but not least, there is an airport, El Altet, which is just 60 km away.
Where to eat in Altea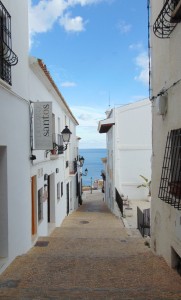 The gastronomy in Altea has influences from different cultures. The typical meals of Altea are, for instance, salazones (salted fish), "coques al forn" and an Argentinian recipe of lamb in the cross.
The restaurants in Altea offer a variety of exquisite gastronomy and out of all of them, Love Valencia recommends you these:
El Bodegón de Pepe. Located at the Paseo Mediterráneo, 18. This restaurant in Altea offers a developed kitchen with great details, based on products from land and sea. They serve outstanding rice dishes, meat and fish with a Mediterranean taste. El Bodgeón de Pepe is a place in which you can taste the best traditional cuisine of Altea for an affordable price. Telephone number: 96 584 53 27.
La Costera. La Costera is a restaurant in Altea, located in a house with more than 100 years of history. An old goat poultry, renovated in the 80's and now it stands for the French cuisine in Altea. Authentic and creative. Located in Parque del Agua in Altea, where in summer classical music concerts are held so you can enjoy the specialties of the season with music in the background at the terrace of La Costera in Altea. It is one of the pleasures you can find in the town. The address is C/ Costera Mestre Música, 8 and their telephone number is 965 84 02 30
Where to sleep in Altea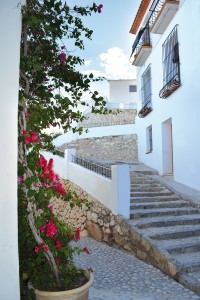 If you look for accommodation in Altea to stay the night in the charming town in the Valencian Community, we recommend you some hotels in Altea that may be of interest to you.
Hotel Tossal. You can find Hotel Tossal in Altea about 400 meters from the historical center in Altea at Partida Pla del Castell, 96. It is a hotel with a cozy atmosphere and the location is also used for weddings, christenings and communions. With 22 rooms, and also with a swimming pool and a restaurant that offers typical, delicious, Mediterranean food. Hotel Tossal is a regular on the list of the best hotels at the Costa Blanca; if you are looking for a place to sleep in Altea, then this is a good option. Their telephone number is 966 883 183
Hotel Ábaco, located at Calle Salva nº 13. Hotel Ábaco in Altea is built in an old bakery in the eighteenth century, a few meters from the center of the town and the coastline. They pay attention to details and a personalized treatment for their guests is highly valued. In addition to that, this hotel in Altea offers very original services, like picking people up from the airport/railway station with surprising welcoming details and gastronomic getaways, with special menus made in collaboration with restaurants from the city. To contact them, you can call 966 88 25 00.
The photographs in this article are courtesy of Tourist Info Altea