If you want to escape to Vilafamés, we offer you all the information you need about this small town near Valencia
The town Vilafamés is an authentic, historical and cultural gem in the province of Castellón. Town of the artists and exquisite wines, hidden streets and places that are well worth discovering. Don't miss any of the tourism in Valencia.
We provide you with the basic information about the town Vilafamés; how to get there from Valencia, where you can sleep, etc. It is information that will make visiting Vilafamés much more tempting and simple.
What to see in Vilafamés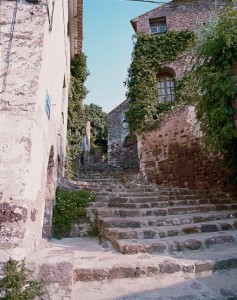 Here we give you information about the important places in Vilafamés you should visit. Discover what to see in Vilafamés:
Walk through the narrow streets which will take you to the muslim era, since the center of the city is of Muslim origin . One will notice this when he walks down the streets. The foundation of the castle, the towers and the streets of Vilafamés still remain factors of the muslim era.
Castle and the walls: located at the top of the mountain, of muslim origin and conquered by Jaume I in 1233. The walls also have an arabic origin, which have been declared to be a place of cultural interest. The castle and the walls are must sees of the town Vilafamés.
Roca Grossa: an impressive construction, located in the middle of the town.
Iglesia Parroquial de la Asunción: originated at the end of the sixteenth century. One of the most beautiful churches of Vilafamés.
Museo de Arte Comteporáneo: founded and led by historian Vicente Aguilera Cerni, has 39 rooms in which you can see the evolution of the Spanish avant-garde, visual poetry, abstract- and contemporary art, etc.
Desierto de las Palmas: the famous natural park Desierto de las Palmas, which you can find only 16 km away from Vilafamés.
How to get to Vilafamés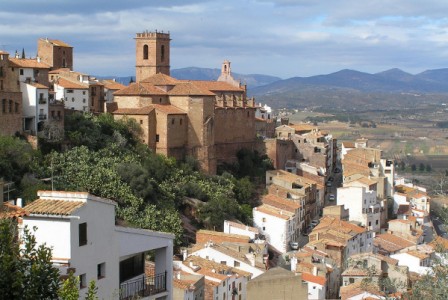 Vilafamés is a town close to Valencia and Castellón. Here we show you how to reach Vilafamés from Valencia:
From Castellón => Approximately 25 minutes in total.
From Valencia => Follow the direction Barcelona and at the height of Area de Sagunto, the road splits in two: AP7 on your left, where you have to pay toll, and A7 on your right. Drive along the A7 and take the CV-10 direction to La Pobla Tornes and drive along this road as well. Eventually, you take exit 33 from CV-10 that will take you to Valld'Alba, Vilafranca. Follow CV-15 and after a short period of time, take CV-160 which will lead you directly to Vilafamés. It takes approximately 45 minutes in total to get there.
Where to stay in Vilafamés
If you want to stay in this charming town in the Community of  Valencia for longer than a day, there are a few hotels/hostels we recommend you to spend the night. Discover where to sleep in Vilafamés:
El Jardín Vertical: looks like a country house from the seventeenth century which is totally renovated. They have a total of 8 rooms with all of the necessary services for a calm and delightful stay. They provide you with a beautiful rustic setting in a unique space. The rooms are adapted to your liking (suites, junior rooms, double rooms, rooms with a fireplace, etc.). El Jardín Vertical can be found at calle Nou 15, Vilafamés. For any questions, you can reach them on 964329938.
El Rullo: a family business, located close to some of the main touristic points in the town of Vilafamés. With 6 bedrooms that are neat and clean, and an attentive, polite service. Close to the restaurant of Hotel El Rullo, where they provide you with typical, homemade dishes which are very tasteful. El Rullo is located at Calle La Font 2 Vilafamés and to contact them you can call 964329384.
Where to eat in Vilafamés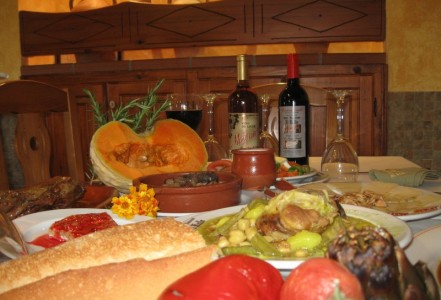 The cuisine in Vilafamés has local products which are exquisite and very well prepared. If you are one to like good food, this town offers very good restaurants. The typical dishes of Vilafamés consist of the typical Olla, the Tombet, grilled meat with alioli, sweet almonds, etc. Discover where to eat in Vilafamés:
Restaurant El Rullo: a hotel as well as a restaurant, where they offer the typical dishes of  Vilafamés, which are tasty and entirely homemade. El Rullo can be found at Calle La Font 2, Vilafamés. To contact them you can call 964329384.
Mesón de Vilafamés: specialized in grilled meat and a variety of rices to order. You cannot pass this restaurant when you are visiting Vilafamés. Located at Calle de la Fuente 1, Vilafamés. Their telephone number is 964335005.