This town has two urban zones in only 32 km2, one in the center (Teulada) and the other on the coast (Moraira)
Moraira is a mediterranean paradise with an incredible climate, perfect for summer vacations as well as exploring tropical coves in the Valencian community. This town has it all – culture, leisure, and cuisine all abound with no end in sight.
Teulada-Moraira can be found in the Spanish province of Alicante, in the region of la Marina Alta.  Measuring in at 185 meters above sea level, 8 kilometers of coast and a total area of 32 kilometers2, this town consists of two urban zones, one in the center (Teulada) and the other on the coast (Moraira).
The history of the town goes back to important historical times.  Many cultures inhabited the territory, but one of the most change-making was the arrival of Saint Vicent Ferrer in 1410, to whom many of the buildings and historical monuments are dedicated.
What to see?
The Historical Center.   The Gothic center of Teulada is declared a Site of Cultural Interest in the category of Historical Sites.  It is most famously known for its buildings of Gothic, Baroque, and to a lesser degree, Modern styles.
The Court of Jurors and Justices (Sala de Jurats i Justicies).  Constructed in 1620, this building has an alluring stone exterior and boasts a well-conserved 1639 sundial.
Castle of Moraira (Castillo de Moraira).  The Castle of Moraira, along with the Church of Santa Catalina, once formed part of the system of protection of the town.  The castle was constructed in the 18th century in the Beach Playa de l'Ampolla.
Church of Saint Catherine of Alexandria (Iglesia de Santa Caterina Mártir).  This parochial church of Saint Catherine was constructed as a church/fortress to protect the citizens of Teulada-Moraira in case of pirate attacks.  It has two very different parts: the original building from the 16th century, and a series of additions that started in the 18th century and continued up until 1979- possibly with more on the way.
Church of Saint Vincent Ferrer (Iglesia San Vicente Ferrer).  Built in honor of the saint, this church was constructed in the neoclassic style.  What sticks out most in the church's interior is the painted ceiling, as well as a carved dome encrusted with blue, green, and white tiles.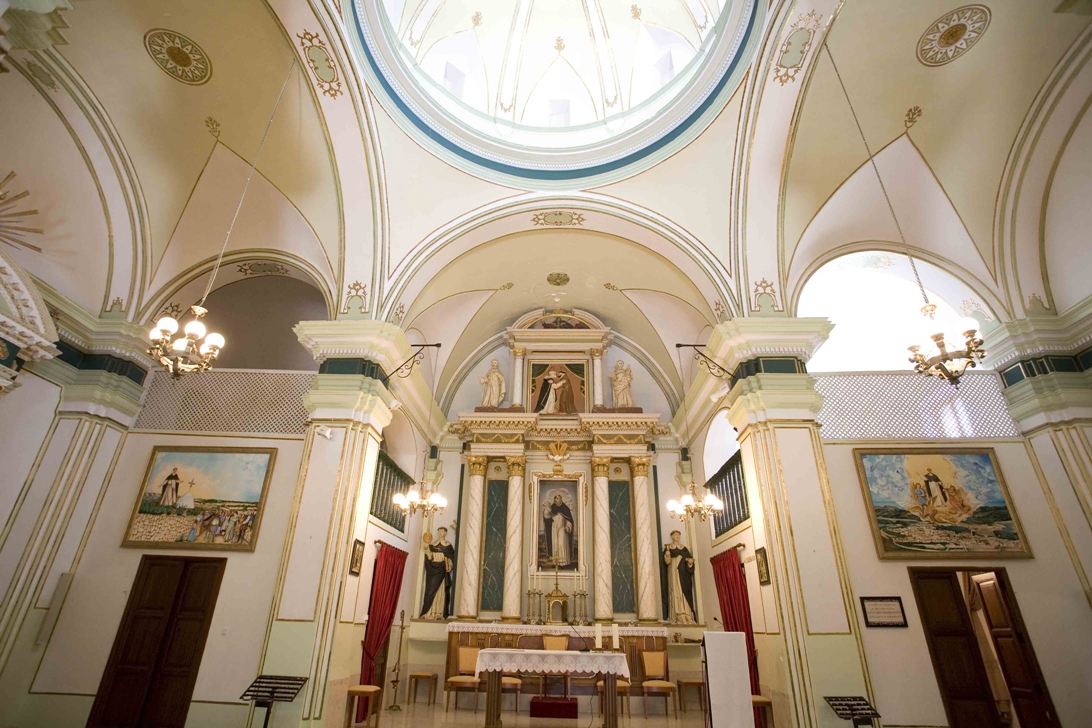 All of the above sites are some examples of the richness of Teulada-Moraira.  However, the main draw to this town without a doubt is it's nature.  Moraira's landscape is the principal reason as to why it is one of the top tourist destinations in the Valencian Community.
The Cape of Gold (El Cap D'Or).  El Cap D'or is a narrow peninsula 1 kilometer in length, sprawling into the ocean.  It contains a bounty of rich and beautiful natural vegetation.
The Cave of the Rats (La Cova de les Rates).  A hideaway situated in the Cap d'Or from which you can access the ocean.  It's not, however, recommended to enter during the month of August, as it is the main period of reproduction of species (yikes!).
The Marshland of the Senillar (La Marjal del Senillar).  A wetland similar to a mini albufera close to the beach of Playa de l 'Ampolla.
Here are some of the best beaches and coves of Moraira so that your escape will be even more perfect:
El Portet.  This beach has soft sand and clear water; perfect for taking a relaxing swim, going on a walk, or adventuring around in kayak.
L'Ampolla.  This is the most crowded beach in town, and is located right at the bottom of the castle.
Cala Cap Blanc. A small rocky cove 200 m long and 8 meters wide.
Where to stay?
There are many different options for accommodation en Moraira: hotels, apartments, camp grounds, etc.  Below you'll find some ideas so that you can plan your next trip to perfection:
Hotel Swiss Moraira.  Swiss Moraira is a four-star hotel with a very intimate atmosphere (there are only 36 rooms in the entire building).  Surrounded by nature, it's the perfect option for a relaxed yet beautiful stay.  Location: Calle Haya, 175.
Hotel Mañet.  This three-star hotel is set apart by it's tranquility and lovely pool that over-looks the ocean.  This is the perfect place to lounge pool-side in luxury.  Location: Avenida del Portet, 126.
Moraira Camping. For those who want something a bit more rural, this camping site is perfect for families and is tucked away in a natural pine forest. There are different options for accommodation: tent pitches, bungalows, and spots for vans.  From Moraira Camping you can see the ocean (the beach is a 10 minute walk!), and there is always shade underneath the inviting pines. Location: Camino del Paellero, 50.
Where to eat?
When the time comes to sit down and refuel from all of the site-seeing and beach-going, you'll be able to find restaurants, bars, cafeterias, places with a Menu of the Day- whatever gets your mouth watering!
Ca La Iaia. Location: Carretera Teulada-Moraira, 44.
Del Pescador. Location: Calle Mar, 33
Samar. Location: Calle Mar, 45 A,B,C.
Braseria La Bonita. Location: Avenida Madrid, 3
El Molinet. Location: C/ Camino del Campamento,1
How to get there?
From Moraira to the city of Alicante is only 80 kilometers,  and to Valencia, 120 kilometers.  The main roads between these places are  Nacional 332 and Autopista AP7. 
Car: Highway N-332 (Carretera Nacional, 332.), exit nº63 AP-7.
Train: Railway Dénia Alicante (TRAM) | www.tramalicante.es | Tel: 0034 900 720 472 | @tramdealicante
Bus: ALSA, line Alicante-Valencia. Tel: 902 42 22 42 |Tel: 0034 913 270 540 | www.alsa.es
Local bus: Ifach (Autobuses Ifach), line Calpe-Teulada-Moraira. Tel: 0034 965 835 591 www.autobusesifach.es
Plane: ALC Alicante Airport or VLC Valencia Airport