Ruzafa has become the new fashion district of the city of Valencia
Ruzafa is the most fashionable neighborhood of Valencia. Ruzafa is a fantastic choice to go out. It has a varied gastronomic offer: bars and restaurants supplied by the Ruzafa Market. There are more and more who choose the neighborhood of Ruzafa to dinner, drink or go out. Here there is a list of the best places to go out in the neighborhood of Ruzafa:
Where to eat
Find out the best restaurants in Ruzafa:
La Nonna. At La Nonna you can enjoy the best Argentine and Italian dishes. C/ Puerto Rico,16.
La conservera. A charming place to taste exquisite cans of preserved Portugal. C/Literato Azorín, 18.
La más bonita. A restaurant that has a good reputation.  C/Cádiz,61.
El rojo. Enjoy the best pinchos. C/ Literato azorín, 10.
Tecolotes. If you like mexican food, you must come here. C/Sueca 51.
El Rus. Famous for its bocadillos and salads. C/ Sueca,35.
Copenhagen. This is a vegetarian restaurant.  C/ Literato Azorín, 8.
La consentida. Tapas for only 1 euro. C/ Doctor Serrano,22.
Ubik Café. Have a snack while reading in a coffee shop that is also a bookstore and exhibition hall. C/ Literato Azorín,13.
The Sushi Room. The most creative sushi. C/Cuba,48/ Literato Azorín 25.
Naia. Taste its delicious crepes. C/ de Romeu de Corberà, 16
El Rodamón de Russafa. A journey through the gastronomic world. C/ Sueca, 47.
Mediterránea de hamburguesas. Mediterranean hamburgers.  C/ Sueca,45.
Cervecería Maipi. Great variety of traditional dishes with the best quality and the best service. C/ Maestro José Serrano, 1
Cocktail bars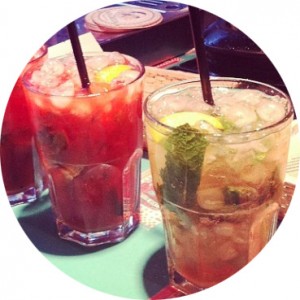 Find out the best cocktail bars:
Delorean Lounge Ruzafa. Enjoy the best vermut with live music and monologues. Gran Vía Germanías, 23
Olhöps Craft Beer House en Ruzafa. C/ Sueca, 21
Biplaza. Montaditos, beer, wine, cubalibre, coffee with good music, expositions, dj´s. C/Cuba, 40.
Cómic. have a drink on its terrace. C/Sueca,33.
Café Tocado. Have a drink and enjoy its shows like in a Parisian cabaret. C/ Cádiz,44.
Café Berlín. Music, expositions and cocktails. C/ Cadiz,22.
Tula Café. Cocktails, smoothies while listening to music. C/ Cádiz,62.
MANDALAY CLUB. Carrer de Sueca, 42.
Cuatro Monos. Carrer de la Reina Na Maria, 7.
Clubs
Have fun in the best Valencian clubs:
Nylon Club. If you are looking for a different club, come here! por Gran Vía Germanías, 33.
Piccadilly. Carrer dels Tomasos, 13.
Látex Club. Carrer de Carles Cervera, 23.
Electropura. Pintor Salvador Abril, 20.
Xtralarge. Un espacio muy diferente y multicultural que te hará disfrutar de la mejor música en sus dos ambientes. Gran Vía Germanías,21.
Play Club. Do not miss its Karaoke Rock Band. No te dejará indiferente. C/Cuba,8.
Pub Planet. Calle Sueca,63.
Radio Transito. Carrer del Literat Azorín, 6.
Liverpool – Russafa. Carrer de Sueca, 74.
Backstage Russafa Sal. Carrer del Literat Azorín, 1.
CALYPSO. Carrer de Carles Cervera, 9.