Spend a day scuba diving! Swim with the marine life of the Mediterranean Sea and enjoy this small adventure.
Be adventurous and explore the Mediterranean sea underwater! Enjoy the tranquility of the ocean and learn how to scuba dive at one of many of the beaches in Valencia, Spain.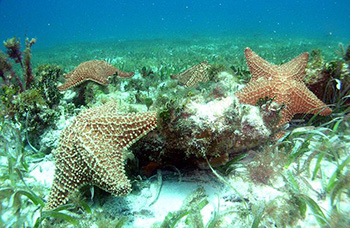 Here you will enter a weightless world that is twice as large as life above ground. Underwater you'll experience a different type of ambiance that's full of peace and serenity.
We present you another option of things to do in Valencia and how to most effectively enjoy your time at one of the Valencia, Spain beaches. Here is a guide for first time divers and diving schools in Valencia.
Scuba diving Tips
First-Timers
The best approach to begin scuba diving is to put yourself in the hands of a professional. Valencia offers numerous diving schools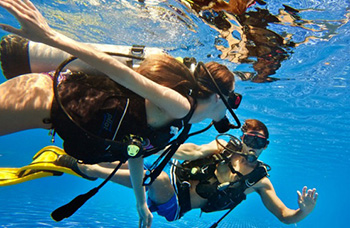 were you will find qualified instructors who will be happy to introduce you to the world of diving safely and correctly.
The first official dive into the ocean for a diver is called a baptism. Students will practice diving into pools beforehand until they are ready to swim in open water.Every person learns at their own pace so there is no need to rush skill at the sake of your own comfort.
It is important to feel at ease when scuba diving. Although having the best swimming skills isn't necessary, it is important for divers to connect to the ocean and to be able to maintain him self or his-self under water.
Age of divers
The recommended age for first time divers is 16 and over. Children can still partake in the activity but you must take account of their lung development, acclimation of the ears, and of course, their psychological maturity. Another great substitute for children is to snorkel in the Mediterranean where even adults aged 60 and over can enjoy this!
Prices
Prices range from each diving school, depending on the types of diving courses offered. Diving schools in Valencia also perform outlets at extra cost. Most diving schools offer equipment rental, instead of purchasing equipment out of your own wallet.
Ears
It is very common to feel some mild discomfort within the ears as you descend into the water and increase outside pressure. This sensation is similar to what we feel when taking off or landing in an aircraft. The diving courses in Valencia will teach divers how to balance the internal pressure with the external to considerably subsidize the pain.

Fear of diving
Diving is not dangerous, but there are risks. Since it's a completely opposite environment, you must listen to the diving instructors who will teach you how to act in water practically and theoretically.

Marine animals by nature are quiet but can still be scary. It's normal to be curious of the creature but be careful as it might sting or bite. Still, there must be an understanding and amount of respect given to the environment we share. Instructors are trained to know what to do in cases of bites or punctures.
Diving should not be something to be afraid of! All the activity requires is to pay attention and be alert. Diving is a unique experience and as Jacques Cousteau said: "To close your eyes to nature only makes us blind in a fool 's paradise".
Happy diving!
Diving schools in Valencia
Diving Valencia (Buceo Valencia)

 Since 1997, Diving Valencia has offered different diving courses ranging from initiation to baptism, to advanced to rescue. It offers promotions and has even made trips to see the seabed. It also organizes outings in the cities of Formentera and Javea.
Address: Calle Ayora, 31 46018 VALENCIA low.

Phone: 610 014 877
Diving Center Bentos (Centro de Buceo Bentos)

Diving Center Bentos offers baptisms, rescue courses, instructor courses, open water diver, and many more. This center has excursions to wilder coves around the Valencia Community such as Javea, Calpe, Benidorm, and Altea and also includes an evening out afterwards.
Address: Pavia, 31 bajo izda

Phone: 96 3564505 – 699 977 352
PolitSub
PolitSub is a center for professional diving and recreational diving with training courses. Throughout the year they host different recreational outings.
Address: Street Pepe Alba, 3

Phone: 963 30 59 35