The Saler Devesa Beach, found within the Natural Park of El Saler, is a gorgeous beach protected by natural dunes within Albufera. Find out more.
Devesa del Saler Beach, another one of the beaches in Valencia, Spain, is situated in the Valencia region once known as Malladeta Beach. Together with El Saler Beach, it is found in the area called Devesa del Saler, whose name is derived from the strip of sand that separates Albufera and the Mediterranean Sea.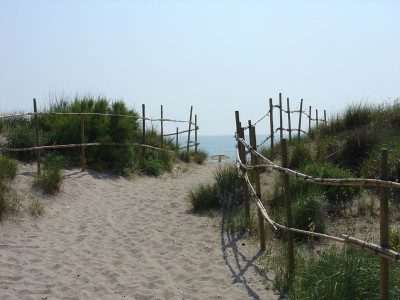 Devesa del Saler Beach, almost 5km long, is a golden, fine-sand beach. Its best quality is its extraordinary natural surroundings, situated right inside the Albufera Natural Park. The beach has natural coastal dunes and protects a rich ecosystem that lives between the lagoon and the dunes. Several types of vegetation can be found in this area: pines, palms, kermes oak, pistacia lentiscus and honeysuckle, all of which provide homes for different species of birds where some are endemic.
The natural surroundings have recently been regenerated due to previous urbanisation in this zone during the 60s-70s. The urbanisation project was put to a stop thanks to the opposition of the locals in the area. The regeneration of the area has been undertaken by various projects since 1988 and up until recently, in 2009.
Discover more beaches in Valencia, Spain!