Discover the city by following this tour in Valencia!
If you don't know what to do in Valencia, here we have thought of a tour in Valencia through the centre to discover the city and to enjoy a nice walk.
We start to get to know the centre of Valencia at Plaza del Ayuntamiento and we walk towards Calle de las Barcas, which is also known as the old fishermen district in Valencia, to get to the Palacio Marqués de Dos Aquas, which takes us back to one of the greatest periods in time of the Valencian society.
We continue our tour in Valencia on foot in the street calle de la Paz, an area in the old jewish quarter in Valencia, where you can take a look at the bell tower of the Santa Catalina Church, which was built on an antique mosque.
Located behind the tower is Plaza Lope de Vega, where you can find the narrowest house of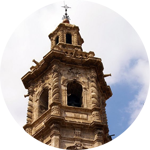 Europe which has a width of 1,07 meters. The perfect place to visit if you don't know what to do in Valencia.
If you walk for a few meters, you can find Plaza Redonda, a classic market in the heart of Valencia on which you can find a flea market with pets, antiques and underwear, every Sunday.
If we go through Calle San Vicente, we reach Plaza de la Reina, one of the most beautiful places to look at in Valencia. At this point, you can see the Doors of Iron of the Cathedral in Valencia, which was built in a way that at any part of the square, an entrance is always right in front of you.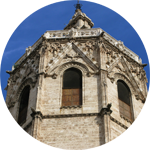 After climbing the 207 stairs that create the spiral staircase of the Miguelete, you can enjoy a magnificent view that looks out on the whole of Valencia. Surrounding the Cathedral of Valencia, you can find the Puerta de la Almoina, in which you can still find traces of where the knights sharpened their swords.
Finally, we get to Plaza de la Virgen, where you can find the sources of the Turia river and its eight ditches and visit the Virgen de los Desamparados Basilica, a church dedicated to the patron saint of Valencia.
Don't forget to check out all the tours in Valencia if you don't know what to do in Valencia!