The Church of San Nicolas is one of the architectural treasures of Valencia. Known as the Valencian Sistine Chapel, do not miss the chance to visit it.
The Church of San Nicolás is known as the Sistine Chapel of Valencia. It is one of the most famous tuoristic attraction in Valencia. In the middle of El Carmen, in the historic center of Valencia, this church has some frescoes and, after its resoration, some paintings were discovered. In your itinerary, the parish of San Nicolás must be visited. Find out here its history and timetable!
History of the church of San Nicolás
The church was founded in the 13th century, during the kingdom of James I, who gave it to the Dominicans. It became a parish in 1242 and it was one of the first twelve Christian parishes in Valencia.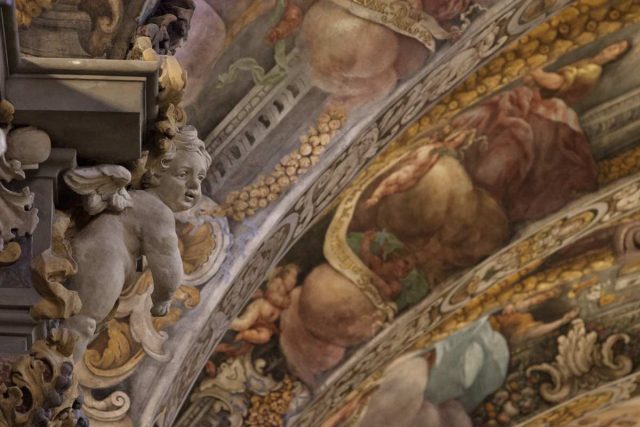 The church represents the perfect union of the Gothic style with the Baroque decoration. In 1981 it was declared National Historical Art Monuments and only in the 21st century started the architectural and pictorial restoration. Inside the church, we can see frescoes, depicting the lifes of Saint Nicholas of Bari and Saint Peter Martyr, designed by Antonio Palomino. Furthermore, there are some childhood scenes, miracles and death in nearly 2000 m2 of surface. The main altar is another masterpiece of this church, in which there are some images of the two saints.
 Tour of the church of San Nicolas
The church is a place of worship, so there is a time for the Mass and another one for the cultural visit. During the Mass, the entrance is free but it is forbidden to take photos or videos for the respect of the faithful. Tours are available in English and Spanish.
The timetable of the church
From october to june:
Tuesday – Friday:  10:30 until 19:00
Saturday: 11:00 until 18:30
Sunday: 13:00 until 19:00
From july to september:
Tuesday – Friday: 10:30 until 20:00
Saturday: 10:30 until 18:30
Sunday: 13:00 until 19:00
Buy your tickets here:
Tickets for Saint Nicolas Church
How to get to the Church of San Nicolas
The Church is on Calle Caballeros, 35.
Bus lines:
Lines 71, 8, 28, 16, 9, 11, 70, 4. Stop: Plaza de la Reina
Lines 5, 28, 47, 95. Stop: Torres de Serranos
Metro-Tram
Line 4. Stop: Pont de Fusta
Lines 3 e 5. Stop: Metro Colón
Information and pictures took from http://www.sannicolasvalencia.com/
Email: visita@sannicolasvalencia.com