On the 17th and 18th of March, a very emotional event takes place during the Fallas in Valencia: the flower offering.
The patroness of Valencia is Virgen de los Desamparados, seen as the 'phantom of Virgin Mary'. Every year, at the 17th and 18th of March during the biggest holiday in the city, the Fallas in Valencia, all of the Falla committees pay a tribute to her by the flower offering. If you want to learn more about the other activities that take place, then don't doubt and check out the program of the Fallas in Valencia.
What happens during the flower offering?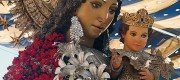 The flower offering is a very emotional activity for the falleros. It actually is a small trip that goes from the falla to Plaza de la Virgen. Carrying a bouquet of flowers, the committees walk several kilometeres.
The road is being used to walk on, except for the committees, as they find themselves outside of Valencia. So they come by bus and later on they also participate in the walk.
What happens with the flowers?
They set up a figure of the Virgin, made of wood, and the flower bouquets that they bring during the flower offering, are being placed in the empty shelves of the wooden figure. With the carnation bouquets, the mantle of the Virgin is being put together, according to the design of the Virgin that is always being drawn the previous year. Every year, the design is different, which means the virgin looks different every single year. The design is being changed every year, but also the colors of the bouquet change, with white pink and red as the most common colors.
With the remaining flowers, they create an impressive tapestry. They don't include the special bouquets and the flower baskets that every committee carries. The tapestry is exhibited for a couple of days, and a vist during these days is a very good idea, since Plaza de la Virgen smells very good those first few days.
The flower offering starts at 15:30 and ends late at night. The offering starts at the 17th of March, on the pace of the fallera mayor infantil of Valencia. On the 18th of March, the fallera mayor of Valencia does the same.
Route of the flower offering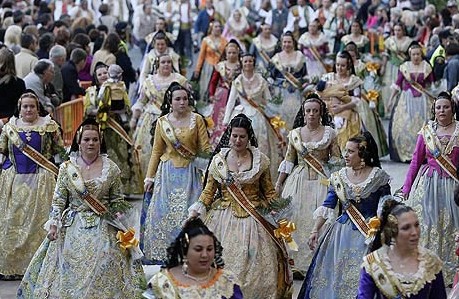 Before the high turnout of falleros and the committees, there are two routes: one which passes through the street la Paz and the other one that goes through the street San Vicente. Both walks will eventually lead you to Plaza de la Virgen, where the committees parade to with their bands and make their entrance to the square 'to the rhythm of Valencia'.