During the nights, the Fallas are being celebrated with the so-called Castillos. The big Nit del Foc is the most spectacular firework show of the Fallas
From the 15th of March until the 19th of March, the Fallas in Valencia take place. The mascletas are not the only forms of firework that are being lit up during the Fallas. The main happenings during these festivities are el Castillo (the castle) which are firework displays from the 15th of March until the 19th of March. The biggest 'castillo' (firework show in Valencia) is the Nit del Foc which literally translated means the Night of Fire. La Nit del Foc is one of the most important occurrences of the Fallas in Valencia. It takes place on the night before the holiday Saint Joseph's Day – a national holiday that is also known as Father's day in Valencia but also in other parts of Spain.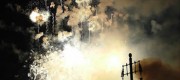 The firework show on la Nit del Foc is not just named the Night of Fire for no reason. The firework show is the biggest display of the year. Every year, more than 4.000 kilos of firework get lit up and hundreds of thousands of people come to take a look at these beautiful fireworks.
This extravaganza takes place at Paseo de la Alameda in the night of the 18th of March to the 19th of March at 1:30. Although this colorful event takes place in the middle of the night, it is definitely worth visiting. To find out more about the Fallas in general, make sure to check out the program of the Fallas in Valencia.
Program of the Castillos during the Fallas 2017
March 15th, 00:00
March 16th, 00:00 at Paseo de la Alameda
March 17th, 01:00 at Paseo de la Alameda
March 18th, Nit del Foc, 01:30 at Paseo de la Alameda
March 19th, 01:00 at Plaza Ayuntamiento combined with the Cremà