Discover how to rent a bike in Valencia using the city's Valenbisi service! Here you will be able to find out how it works and how much it cost to subscribe.
There are two types of Valenbisi subscriptions that vary on the needs of travels.
Yearly Subscription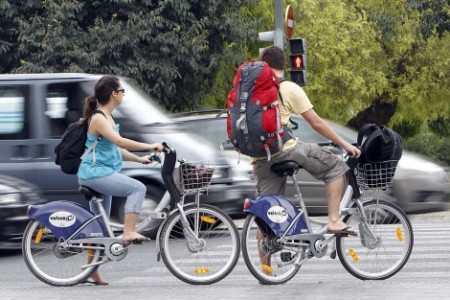 The yearly subscription is best suited for long term visitors and residents of Valencia. For about 27 euros, this Valenbisi subscription offers access to any bicycle for an unlimited amount of times during the year. This subscription can be purchased in two ways: buying the Valenbisi card online through its website, or by purchasing a mobilis card, a rechargeable card for buses as well as bikes.
The former takes about 15-20 days to receive the card while the mobilis card can be purchased immediately in person and go directly to Valencia bicycles.
Short Term Subscription
The short-term subscription if designated for travelers who plan to only stay a few days in Valencia. It is a weekly ticket that lasts seven days and costs about 13 euros. It is activated directly through the service terminals at each Valenbisi stop distributed throughout the city. Once you have subscribed, each bike must returned with within 24 hours.
The first half hour of Valenbisi bike rental is free. After, depending on the type of subscription, is 0.52 euro cents for 30 additional minutes and 2 euros for the following 60 minutes for the yearly subscription, while for the weekly subscription are respectively 1.04 euro and 3.12 euro.
These additional costs can easily be avoided by returning the bike in one of the nearest stations, wait another half an hour and rent a different bike if your traveling a further distance. If in case there are no openings to return a bike at a Valenbisi station, scan the card in front of the terminal and you will be given an additional 15 minute to find a different station.
Contact Information
Valenbisi is a convenient and economical way to get around the city without constraints.
For more information or to subscribe visit the official website Valenbisi where you will find a map of all service stations and other information. Or you can go directly to their office which is located in Torre de San Felipe in the Paseo de la Alameda. Hour are from Monday to Friday from 10:00 a.m. to 2:00 p.m. and from 4:30 p.m. to 8:00 p.m.; Saturday from 10:00 a.m. to 2:00 a.m.
Otherwise to contact Valenbisi  you can call the following  number  +34 902 006 598 or send an e-mail through the site.