Discover Valencia on bike and visit all the historic sights of the city
Valencia is the perfect city for riding a bike. It is not as hectic and confusing as most other big cities when it comes to bike lanes and with the 9 kilometers long Turia Park the city offers the perfect green setting for a relaxing day on bike. Pelican Bike Rentals is the place you should visit if you are in search for a bike rental in Valencia.
It is very easy to find them, they are located in the beautiful historical city of Valencia, a place everybody should visit while staying in our sunny city. From their Valencia bikes shop you can start your discovery tour on bike and visit all the historic sights the city has to offer. The Turia Park is also very close to their shop, so if you want to ride your bike without the hustle and bustle of the city, you won't have to ride for a long time.
Pelican Bike Rentals is a well-experienced company in the Valencia bike rental and they are always happy to help their customers with any problem or inquiry he or she might have. They speak 5 different languages so they are able to customize your stay in Valencia and offer you the perfect bike for your bike tour. Of course, their bikes always fulfil the newest standards and are checked frequently. They always rent out the latest models so that you don't have to worry about poor quality or malfunctions when you rent a bike in Valencia with them.
If you want to have special equipment on your bike, you can rent out various accessories with your bike. But this is not the only additional service they offer: they can organize your own customized bike tour in Valencia next to their standard tours. Pelican Bike Rentals also has a luggage room, which is under video surveillance 24/7 so you can leave your belonging at their place without carrying them around while enjoying your bike tour.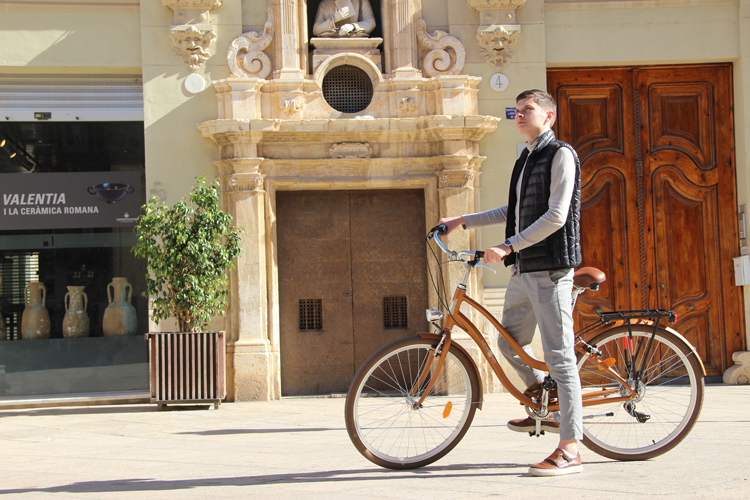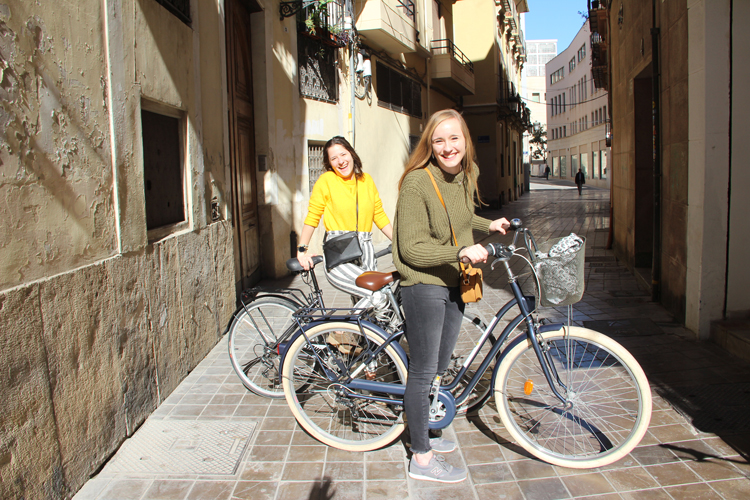 A guided bike tour can be a good alternative to renting out a bike and discover the city on your own. Pelican Bike Rentals offers you a wide selection of guided bike tours in Valencia. Most of their tours are tailored to beginners and don't need any special training beforehand, so that they are customized to the adventurers who want to uncover the hidden gems of the city in a relaxing way. You will learn a lot about the city from their trained guides while enjoying your workout. There are group tours for more than 5 people as well as individual tours available.
You can choose from different tours. If you don't have a lot of time to discover the city we recommend their Grand City Bike Tour. Since Valencia has many parks to stumble on, they created the Parks of Valencia Bike Tour for you. The Valencia Old Town Bike Tour shows you the historic center of our beautiful city and for the arts enthusiasts they offer the Valencia Street Art Bike Tour. If you would like to train your taste buds as well as your muscles, the Tapas and Paella Bike Tour is perfect for you. Furthermore, the surrounding areas of Valencia are always worth a visit. Because of this, we offer the Albufera Bike Tour and the Port Saplaya Bike tour. You see, when it comes to bike tours of Valencia, you can always count on Pelican Bike Rentals. They have the perfect bike as well as bike tour for you and can help you anytime to make your stay in Valencia an unforgettable and pleasant experience.
For more information please visit their website: pelicanbikerentals.com. You can find them:
Carrer de L'Herba 4, 46003 València.
Telephone: +34 635 200 638
They are open Mondays to Sundays from 9:30 to 20:30.