Vegan in Valencia. Our guide to Vegan Food in Valencia, street pick ups, elite clubs, french inspired and more.
As a country known for bull-fighting and Jamon-eating, from an outside perspective Spain may hold a decently anti-vegan air to it.  After all, it has been scored as the country that eats the most meat in the EU on multiple occasions.  Despite these not-so-plant-based customs, Valencia is planting the seeds of many vegan restaurants and communities.  So veggie readers everywhere, we're telling you that nowhere is better than this Mediterranean city for vegan food. People's diets seem to be shifting from meat-dominant to plant-based (whether that be vegan double cheese burgers or salads, you choose!), and we are happy to present you with this unmissable top vegan restaurants in Valencia list; we promise you'll be able to referance many of them when you recount your favorite restaurants in Valencia.
Aloha Vegan Delights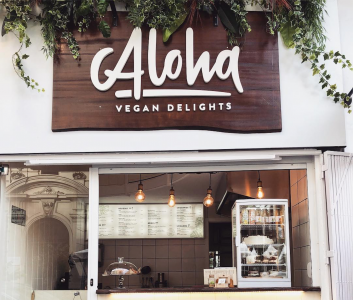 Aloha Vegan Delights is a principally take away restaurant (with some seating available) specializing in vegan street food. Aloha has a unique design; although the seating inside of the restaurant limited, you can still enjoy a meal inside of the Carrer dels Cavallers location. Aloha has healthy range of all-vegan items, including burgers, wraps, nuggets, Acai Bowls, desserts, and fries. To drink down your meal, they can even whip you up a fresh & healthy smoothy (the Shaka Coco tastes similar to a chocolate milkshake!)  We highly recommend this joint either if you are looking for something quick and yummy to go, or wanting to have a quality vegan meal. You can find their main location nestled next to the Church of Saint Nicolás Valencia, and the second by Mercat Central.
Aloha Vegan Delights is open from 11 a.m. to 11 p.m.  Main Location: Carrer dels Cavallers, 45, 46001 València (seating available here).  Second location: Calle María Cristina, 9. Valencia
La Mandragora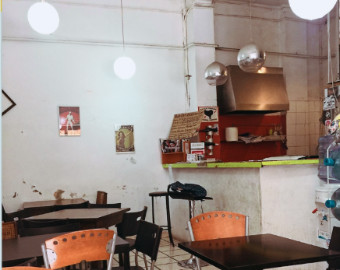 La Mandragora is an association of gastronomy and culture solely devoted to Vegan food, but it is more of a community than a typical restaurant. Many vegans in the city know this joint as the place where you pay any amount you want; the hosts say they will accept however-much money you think the food was worth.  La Mandragora is basically a social club you can join to meet like-minded peers, eat great food, play board games, organize activities, partake in workshops, and enjoy tastings of all sorts. You must be a club member to participate, so if you're interested, sign up here http://www.lamandragora.org/.
La Mandragora is open every day from 9:00p.m.-11:45p.m. (except Sunday which is 8p.m.-11:45p.m.) Additionally, Wednesday through Saturday you can come in for lunch starting at 2p.m.  They are located at Carrer de la Mare Vella, 15, 46020 València.
Photo by rosanavidal on happycow.net
Khambú
Khambú is a vegan fast food restaurant which focuses on burger combos, hotdogs, nachos, nuggets, burritos, salads, and desserts (like cake, brownie, and icecream..oh my!) As for gluten-free options, there are plenty of things to choose from: gluten-free beer, burger buns + burgers, nachos, cakes, brownies, fartons, fries, and more. Apart from the food, the atmosphere here is also super cool: a modern design with multicolored chairs, wooden tables, and green foliage hanging from every corner (even over the counter.) Khambú is great option if you're looking for tasty vegan junk food in an anything-but-junky restaurant!
Khambú is open Tuesday-Sunday 1:00p.m.-4:00pm, as well as 8:00p.m.-11:00p.m. Tuesday, Wednesday, Thursday, and Sunday, and  8:00p.m.-11:30p.m. Friday and Saturday.  They are located at Carrer de Quart, 41b, 46003 València.
Almalibre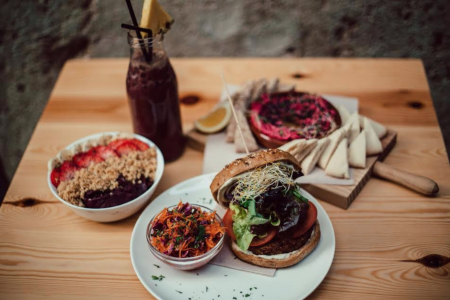 Directly translating to "Free soul", Almalibre is a restaurant that offers healthy options and are most recognized for their açai bowls.  They offer different sizes of this fruity favorite, ranging from 150 ml/5 oz at €3.80 to 550ml/18.5 oz at €11.90.  On top of that açai, you can add bananas, granola, sunflower seeds, and puffed rice for no additional cost.  However, for 80 cents more, you can go really fancy and add toppings like grated chocolate, almonds, goji berries, chia seeds, and more.  If you want than a smoothie bowl to fill you up, the burgers at Almalibre are reeeally good.  You can choose from three different vegan bases and from there add things like Vegenaise, vegan cheese, vegan bacon, mushrooms, and caramelized onions.  Even more options include wraps, hummus plates, grain bowls, burger bowls, hotdogs, smoothies, cocktails, coffees, matchas, teas.. let's just say you really are going to need to come see this for yourself.
Almalibre is open Tuesday-Saturday 11:00a.m.-11:00p.m and Sunday 11:00a.m.-4:00p.m.  They are located at Carrer de Roteros, 16, 46003 València.
La Tavernaire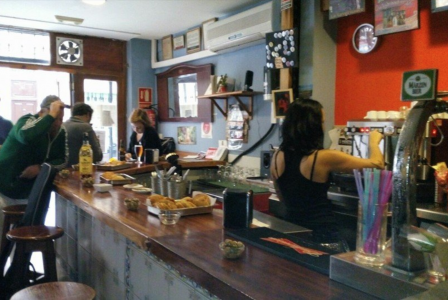 La Tavernaire is Ruzafa's popular plant-based tavern/pub. Famous for its delicious vegan tapas, it offers organic products, natural juices, handmade tortillas and Valencian wine. Every Sunday Vegan Paella.  This is the perfect place to enjoy a couple of beers; you don't even have to worry about finding vegan food to munch on while you drink!  The staff here is very welcoming and accommodating for any questions you may have about the food, drink, or really anything.  This is the perfect place to check out if you miss the feeling of going to an every-day bar and being able to order food without worries of it being vegan; here, options abound and you will feel very well taken care of.
La Tavernaire is open from Wednesday-Saturday from 7:00p.m.-12:30a.m., as well as hours Friday-Sunday from 12p.m.-4p.m. for lunch.   They are located at Carrer de Dénia, 18, 46006 València.
Loving Hut

You may already be familiar with Loving Hut; after all, this chain has gone global. With restaurants in every continent but Antartica, Loving Hut invites the whole world to taste good food made from on vegan and wholesome ingredients. Their goal is to make accessible food for everyone and their vegan restaurant does just that. Loving Hut Valencia is an all you can eat vegan buffet- some of the foods you will find here include sushi, soup, spring rolls, sliders, fries, vegan proteins, salad, noodles, rice dishes and more.  They do not serve alcohol, however they beer/wine with 0% alcohol content. (Photo by LuckiestCouple on tripadvisor.com)
Loving Hut Valencia is  open Tuesday through Sunday 1:30p.m. – 4:30p.m. and additional hours on Friday and Saturday 8:30p.m. – 12:00 a.m.  They're located on the Gran Via at Carrer del Comte d'Altea, 44, 46005 València.
Nomït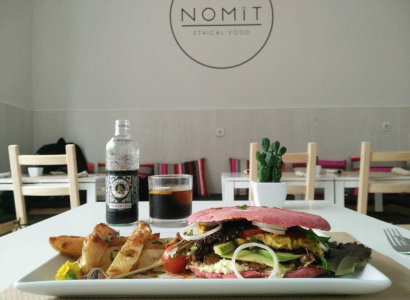 Nomït (get it, like no-meat?) is a vegan hamburger restaurant. They offer tapas, burgers, salads, cakes and daily menus. Fruits and veggies are always in season here; and organic, gluten free, and sugar free options are made readily available. Apart from great food, Nomït also participates in events in Valencia, for example offering showcooking at the 2019 Big Yoga Festival.  The atmosphere at this burger joint is not your typical diner or dive;  sleek white walls overlook colorful seating pillows and table plants; making this an instagrammable burger spot.  Vegan take away and delivery are both options with Nomït.
Nomït is open Tuesday-Sunday 1:30p.m. to 4:00 p.m.  They also have additional hours on the weekends, from 9:00p.m.-11:30p.m. Thursday through Saturday.  They are located at Gran Via del Marqués del Túria, 58, 46005 València.
The Nature Restaurant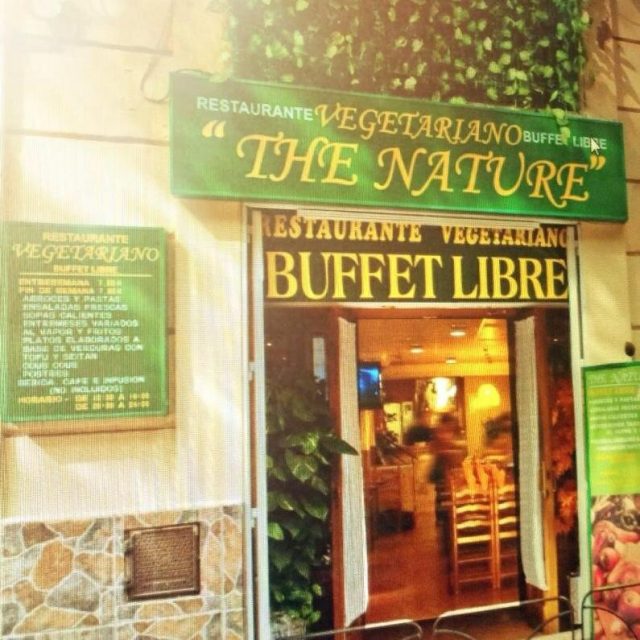 The Nature Restaurant is a Chinese vegan restaurant.  For just 7 euros you can enjoy an all-you-can-eat vegan buffet filled with delicious Asian and Spanish food.  Some of the common buffet items include sushi, spring rolls, rice, veggies, tofu, pasta, a salad bar, fruits and more. The best way to prepare for coming to eat at The Nature is to arrive ready to eat- and a lot! The fact that you can eat however much you want for 7 euros would make this restaurant the cheapest vegan restaurant on this list!  And if you have dietary restrictions apart from being vegan, do not fret- The Nature has an allergen list of what contains gluten, soy, etc.
The Nature Restaurant is open every single day for lunch and Dinner,  with takeaway options available.  They are located at Plaça de Vannes, 7, 46007 València.
The Vurger
Debuting their vegan restaurant  in 2017, this renowned burger joint is perhaps the most popular vegan restaurant in Valencia.  The Vurger is similar to Khambú in that they both offer burger combos, hotdogs, salads, desserts, etc.  Apart from the typical options, they also have salads, nuggets, "pops" (fried vegan meat with sauce), and tenders.  For dessert, you can choose from vegan tiramisu, cake, and brownies a la mode (yup, pretty much your vegan fantasy come true.) The atmosphere of this restaurant manages to look like McDonalds got an older, cooler vegan sister.  Looking for a meal on the go?  Keep their Facebook page in check to see where their Vegan Food Truck in Valencia is set up next!
The Vurger is open from 12:30p.m.-11:15p.m. every day. They are located at Carrer del Mur de Santa Anna, nº3, 46003 València.
Herbolario Navarro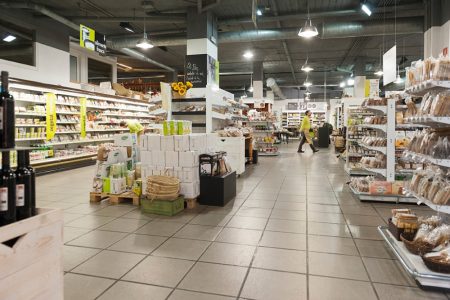 Herbolario Navarro is a special place for all people. Navarro is an organic, biological grocery store which also has a restaurant with vegan options. Navarro is located in the city center and in some of the outer districts of Valencia; they have many locations all throughout the city.  Their cafeteria typically has vegan menus of the day: including soup, a rice dish with vegan meat, and dessert.  Some of their most notable vegan products in the grocery store include vegan chorizo,  cookies, vitamins, kombucha, vegan toiletry products, tortilla de patata, blood sausage, cream cheese, cooking soy milk, paté; truly if you are ever needing any product from a vegan grocery store in Valencia; this is the place you want to go to.
They have multiple locations with cafeterias, including at Carrer de Sant Vicent Màrtir, 63  and c/Arzobispo Mayoral, 20.  Most locations of Herbolario Navarro are open from 9:00a.m.-8:15p.m., however this varies from location to location, so be able to check their hours before you go!