Discover the most beautiful views of Valencia while on top of these rooftops
Valencia is the third largest city in all of Spain.  This means that at times, although the city has no where near as much hustle and bustle as Madrid or Barcelona, you can start to feel small.  And fittingly, the Spanish solution to this is going up, up, up until you are bigger than the buildings and find yourself on a rooftop bar.
One of the best things to do in Valencia, or above Valencia, is enjoy a nice, cold cocktail on top of a terrace with an amazing view of the city.
This begs the question- which one should you go to?  Well, we are glad you asked, because this article has answers.  All of the answers; a comprehensive list of the Best Rooftops in Valencia.
Are you looking for a night on the town that isn't so high?  We've got you covered for that, too.  Restaurants in Valencia and Tapas in Valencia will offer some more "down-to-earth" dining options.
Terraza 270 Grados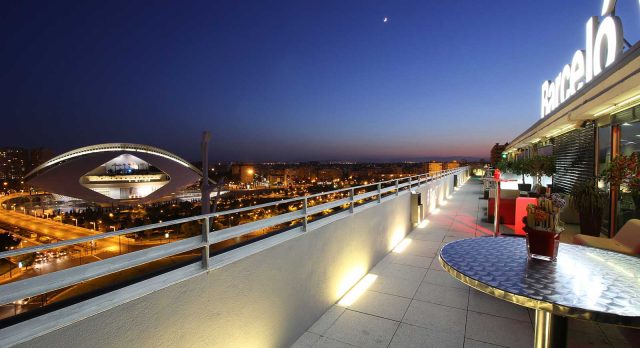 From the 10th floor of the Hotel Barceló Valencia, this rooftop (in English translated to Terrace 270 Degrees) offers one of the best views in all of Valencia.  The captivating skyline of the city center gives way to the City of Arts and Sciences.  At night, this view completely changes into a light-twinkled Spanish wonderland where you can see the Valencians still in full swing and vibrance even after the sun has gone down.
This rooftop has many amenities- including a rooftop pool accesible to customers during the day.  As for drinks, 270 offers mixed drinks, cocktails, cavas, champagnes, and more.  They are also available for private party bookings.
Location: Hotel Barceló Valencia. Av/ de Francia, 11
La Terraza VLC Urban Club
This terrace on top of the Expo Hotel Valencia is one of the best kept secrets of the city.
Terrace VLC Urban Club features food as well as drink, with dishes like salads, fries, and nachos to keep your spirits high like your altitude.  The atmosphere is warm and inviting, with string lights hovering above you to put you even more in the stars.  This joint offers drinks that are avant-guarde, as well as a rooftop pool.
Location: Expo Hotel Valencia. Avenida Pío XII número 4.
Palau Alameda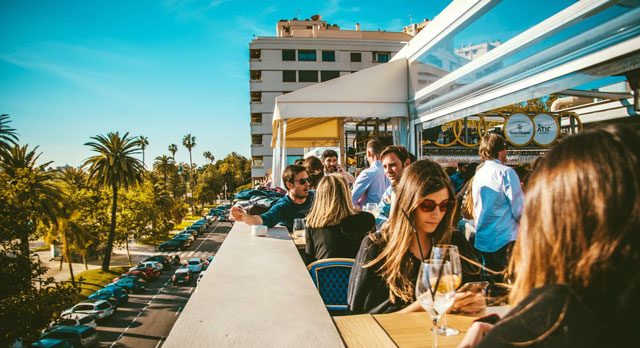 Palau Alameda, or in English, Alameda Palace (named for the neighborhood in which it's located), is 2,700 square meters of gastronomy, culture, and entertainment separated into 3 different places. Azza, La Sala, and Àtic, the panoramic restaurant where you can drink something or have lunch/dinner with views of the biggest park in Valencia, "El Río", as well as Alameda.
In Àtic Bar, chef Nicolás Román serves up a delicious and fresh menu.  If you like brunch in Valencia, this rooftop is perfect for you.
Location: Calle de l'Arquitecte Mora, 2
Ateneo Sky Bar Restaurant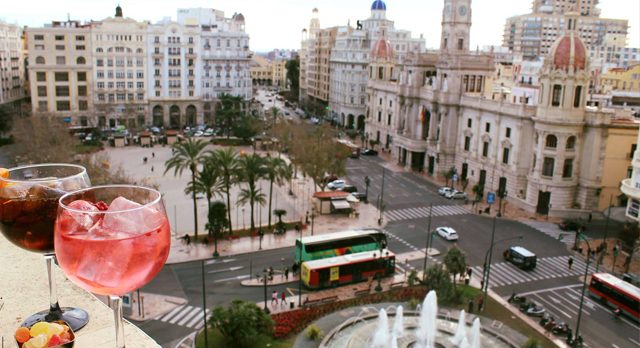 If you're searching for a rooftop in the center of Valencia, the best known is Ateneo Sky Bar Restaurant; located on the rooftop of the Ateneo Mercantil of Valencia (a building with many expositions, conferences, restaurants, and so on.)  This Valencian treasure directly overlooks the Valencian city center and offers comfortable chairs, tables, and light music in the background.  To drink, they offer over 30 different types of Gin and Tonics as well as Vodka Tonics.
Decorated in a minimalist style, this rooftop is your best bet when searching for a place to get drinks right in the middle of the city.
Location:  Calle de Moratín, 12.
La Terracita del Palace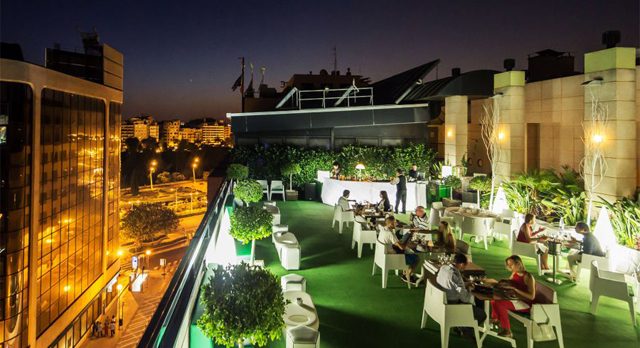 The Hotel SH Valencia Palace has its own mini rooftop- enjoy some good weather during Spring and Summer.
Every evening after 8:00PM, you can come to La Terracita either for dinner of just drinks.  On the menu is deluxe hamburgers, beers, cocktails, and more.  Not to mention, La Terracita is located right next to Palau de la Musica de Valencia; Valencia's premier concert hall, so you may be able to overhear some nice music- drink in hand.
Location: Paseo Alameda, 32
Sky Bar Restaurante Vertical
Vertical is one of the most esteemed and best quality restaurants in Valencia.  Every local has heard of Vertical and many have experienced a meal of two at this place.  La Sucursal is the culinary group in charge of the famous Vertical- and their rooftop bar called Sky Bar is just as popular.  It's a space that is intimate yet open- perfect for any sort of celebration.  An if you're still not convinced, from sky bar you can see the Mediterranean Sea.
Location: Calle Luis García Berlanga 19. Enter through Hotel Ilunion Aqua, 4 – top floor.