Your survival guide to tapas bars in Valencia
Tapas or "tapear" have developed into a part of the identity of Spain. It's normal for the people to go out for dinner to a tapas bar and snack on something with a good beer or wine in their hand.
Many times, you share with multiple people the "tapeo" in Valencia or combine it with a sandwich. Read further to find a selection of the best places to get tapas in Valencia.
Tanto Monta
Tanto Monta is one of the best places for sandwiches in Valencia. It stands out because of the quality of its "montaditos" (small sandwiches) and "pinchos" (similar to tapas).
Small goat cheese sandwiches with blackberry marmalade, eggplant with quail eggs, octopus… you will find a long list of tapas that are perfect for different tastes.
Tanto Monta is located at Calle del Poeta Artola 19, Valencia.
Photo by Stanley S
El Forn del Carmen
El Forn del Carmen is an established joint located in the heart of the neighborhood El Carmen.  It has been standing there in its original state for over three centuries. In this area you can taste tapas and pinchos, along with a beer, a glass of wine, or soda.
On the menu of El Forn del Carmen you will find hard-cheeses, anchovies with a black olive tapenade,  and toast with guacamole and salmon.
El Forn del Carmen can be found in Calle San Ramón 2, Valencia. (next to the Mosen Sorell market)
Photo by Christian R
Rus de Ruzafa
An essential place to visit in Ruzafa. Their menu includes tapas, sandwiches, hamburgers, salads, pitas and desserts. It stands out because it is very traditional; you can find sandwiches  or tapas like olive tapenade or camembert cheese with candied tomatoes.
The best part of the night at Rus is probably the dessert, since their chocolate cakes are famous in the city. This sandwich and tapas bar won't leave you unimpressed.
You can find this restaurant at Calle Sueca 35, Valencia.
Photo by Fimke van Dis
El Almacén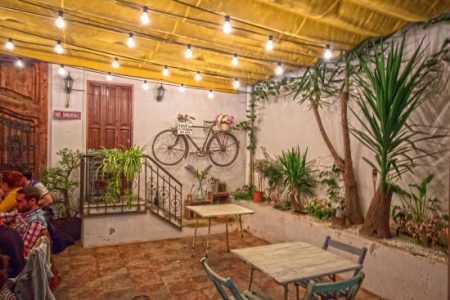 This is one of the tapas bars in Valencia that caused a lot of excitement in the neighborhood of Ruzafa. They call themselves a new rustic kitchen that offers original tapas with today's and traditional flavors which always go together with some good wine.
Cold tapas, hot tapas, toast, hamburgers and sweet tapas (desserts), are the main dishes at this charming restaurant in Valencia. 
You can find this restaurant at Calle Sueca 41, Valencia.
Photo by Franco C
Bar Ché- Taberna Vasca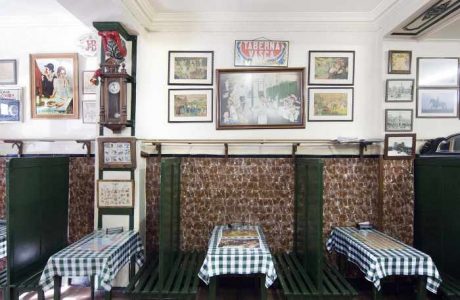 This restaurant offers you homemade food with rich flavors, mainly Galician and Basque tapas which are very delicious. This real Valencian gem has been open since 1933.
Cider, empanadas, snails, chistorra, squid, fried bacalao..a place in Valencia you should go to if you want to taste something apart from the usual Valencian flavors.
This taberna vasca is located at Avenida Reino de Valencia 9, Valencia.
Café & Tapas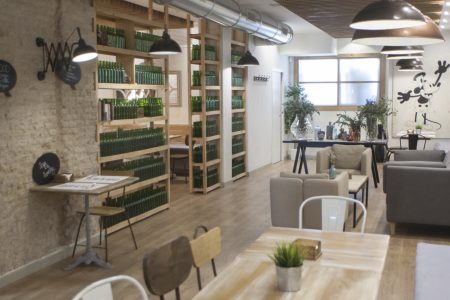 With two locations in the center of Valencia, Cafe & Tapas offers a selection of reinvented tapas that maintain a Spanish essence. Their location at la Porta de la Mar offers a space specially made for children, with a kid's menu and even cartoons on the weekends.
Cafe & Tapas is an ideal place for any hour of the day; from having a coffee in the morning to going out for tapas and drinks with friends after work.
Their tapas bars can be found at Plaza de Ayuntamiento, 19 and Porta de la Mar, 4.
Kaña Makan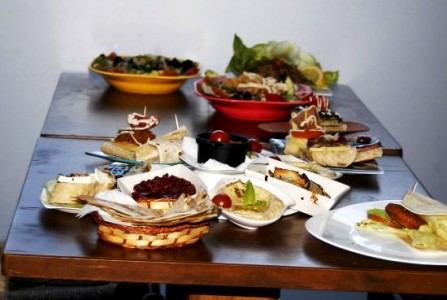 If you want to get to know the signature cuisine with a fusion of Mediterranean flavors and an exotic touch, then this is the place to go. In this restaurant the montaditos and tapas are 1 euro, while the sandwiches also come at an affordable price.
At Kaña Makan cheap does not mean that the quality is less. Every bite you take tastes better than the last one. The desserts are delightful and you can't miss out on them!
Kaña Makan has two locations:  Calle Explorador Andrés 24 and Calle Sueca 61, Valencia.
Casa Montaña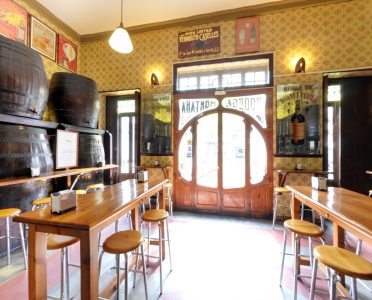 Casa Montaña is a winery of which the quality of the tapas and dishes are known in all of Valencia. Since 1836, both locals and outsiders are coming to this place to enjoy a good lunch or dinner.
On their menu you can find an infinity of delicious tapas with ham, seafood, anchovy, patatas, embutidos (cold meat) and many Mediterranean products that will definitely leave an impression.
Casa Montaña is located at Calle José Benlliure 69, El Cabanyal, Valencia.
Central Bar
Central Bar stands out for its location in the Central Market of Valencia. It is a creation from the Valencian chef Richard Camarena.
It is not surprising that they cook with products from the market, and that their sandwiches, tapas and dishes are of quality and incredible taste.
Central Bar can be found in the Central Market of Valencia, on Plaza Ciudad de Brujas s/n, Valencia.
Bar Alhambra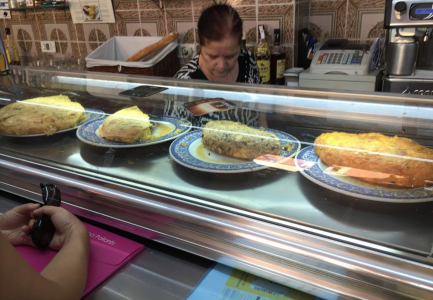 This tapas bar stands out in the city as they offer the best tortilla in Valencia. Although their specialty is traditional tortilla de patata (Spanish omelette with potatoes), this location also prepares their tortillas with onions, morcillo (sausage), tender garlic and sobrasada, amongst others.
Locals, tourists and people from every part of Spain come to Bar Alhambra to try their delicious tortillas. Don't leave Valencia without trying them out for yourself!
Bar Alhambra is located in Calle de Calixto III 8, Valencia.
Photo by Ignacio V. Pérez Martínez
Bar Boatella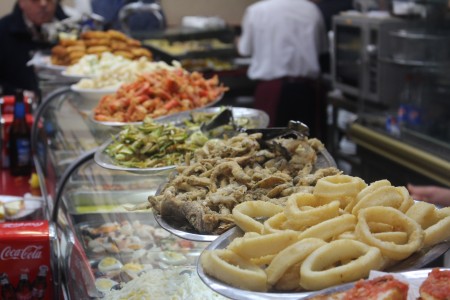 This traditional tapas bar is located just outside of the Central Market in Valencia and it is a compulsory stop for lovers of Valencian tapas. Because of their ideal location, they serve products that come from the Central Market in Valencia.
All of the tapas are fantastic, but there are some that especially stand out: fried prawn, the moro (rice), tellins and the cuttlefish. These are truly authentic tapas!
Bar Boatella can be found at Plaza del Mercado 34, Valencia.
Secreter Salsa de Estar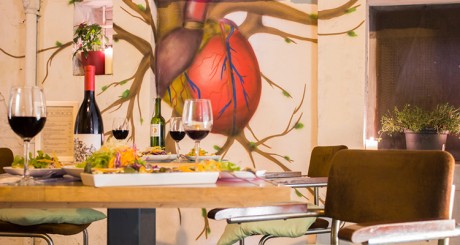 This restaurant is in a zone that is separated from the hustle and bustle in the city; in the old town. Here you'll find thoughtful staff in a cozy atmosphere and with a unique specialty of reinvented tapas.
For four years, Secreter Sala de Estar has been the ideal place to enjoy a combination of the Mediterranean kitchen, and its charming terrace, located at the inner patio.
You can find Secreter Salsa de Estar at Calle Los Maestres, 5, Valencia.
Lotelito
In the center of Valencia, close to the main theater, you can find Lotelito, an urban space with a combination of culinary traditions and trends.
Lotelito is an ideal place to enjoy tapas and the Mediterranean cuisine; both of which are quality and with a price that is suitable for every wallet. It is also a great area to relax at after you get off from work, with your partner or with your friends.
You can find Lotelito at Calle de las Barcas 13, Valencia.
La Pilareta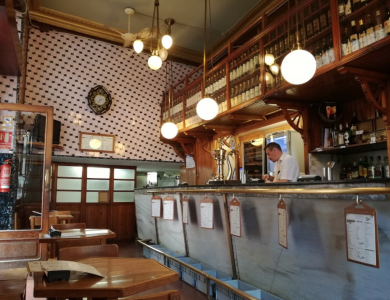 Commonly known as "Bar Pilar" in Valencia. This bar is famous for its "clochinas" (mussels) (they call themselves la Casa de las Clochinas). You cannot visit Valencia without having tried their portions of clochinas.
Other than their famous clochinas, the restaurant is famous for its tapas and sandwiches.
Bar Pilar is located at Calle Moro Zeit 13, Valencia.
Photo by Emmanuel Luna
Now go try some of the best tapas in Valencia!