Use these guides to help you arrive to Valencia's historic city centre from the Valencia Airport (VLC)!
Valencia airp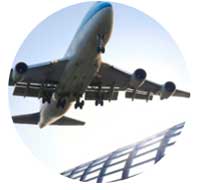 ort is located about 9 km/ 5 mi west of the city in the nearby village Manises, respectively of the same name. It is the eighth largest Spanish airport in terms of passenger size and air traffic and is the second largest of the region, after Alicante. Many different means of transport in Valencia can easily reach the airport.
Valencia Airport is connected to the downtown area by metro where one ticket takes you on a 20 minute metro ride that reaches the historic City Centre.
General information about connections to the city centre and tariffs can be found in every terminal.
Arriving to the City Centre from Airport by metro
Valencia Airport is easily reached by means of other transport in Valencia. Valencia metro lines 3 and 5 go directly to the airport at an average of 25 minutes from departure from the  city center. A single ticket to the airport cost 4.90 €, covering the two zones it takes to get to the metro from the city centre.
Arriving to the City Centre from Airport by bus
Alternatively, you can arrive to the centre by the Valencia bus system EMT. Bus line 150 is will take you to the center in about a 40 minutes, stopping at Mislata, Manises and Quart de Poblet. The regular ticket price is 1.45 euro, for those over 65 it is 0.95 euro, and 1.15 euro for large families. This bus runs every 25 minutes on weekdays and every 35 minutes on Saturdays (Sundays and holidays the service is not available). Tickets can be purchased on the bus.
Arriving to the City Centre from Airport by Taxi
A Valencia taxi can also take you to the city centre. The price will depend on distance traveled but on average the cost from the airport to the center of Valencia is around 20 euro. There is also an added 3.50 euros fixed rate which is a paid supplement to any Spanish airport by taxi.
Arriving to the City Centre from Airport by car
If neither of these options suit your desire, you can rent a car at the airport through Hertz, Europocar, AurigaCrown, Avis or National Atesa.