Valencia has many holidays, but none of them are as popular and big as the Fallas in Valencia. Art and fireworks are two words to describe this unique event
Valencia, and Spain in general, has many holidays. The most famous one has to be the Fallas in Valencia. To find out more about this festivity, then this is the page to be. Also, don't forget to check out the program of the Fallas in Valencia, to get a detailed look on the Fallas in Valencia.
Fallas in Valencia revolve around San José, who is the patron saint of carpenters. The event dates back to the fifteenth century, when craftsmen and carpenters created wooden parrots which they hung on their oil lamps. At the end of fall, they burned these parrots as a ritual,  to celebrate the beginning of spring. Nowadays, this pagan ritual is still being celebrated every year, from the 15th of March until the 19th of March, and is known as las Fallas in Valencia.
However, nowadays the Fallas in Valencia are celebrated in a different way. For many months, people work on their falla, which are figures that are made out of different materials. These figures are shown in parades which take place during the Fallas in Valencia. These figures are called ninots and they come in all shapes and forms. These ninots are made as cartoons and have the purpose of being funny and satirical.  These ninots are approximately 15 to 30 meters high. The collection of multiple ninots is called a falla.
Preceding- and during the Fallas in Valencia, there are the so called fallas committees. Every neighborhood in the city of Valencia has its own fallas committee. These committees exist out of a group of people who are responsible for the actualization/financing of the Fallas and the program of the festivities during the Fallas in Valencia.
If you cannot be in Valencia at the time of the Fallas, make sure you check out the Fallas museum in Valencia to still get an impression of everything that is going on those days. The museum contains a collection of the best Fallas that have been made ever since 1934 and have been saved. Other than that you can look at various posters and photographs which sure will give you an impression. Th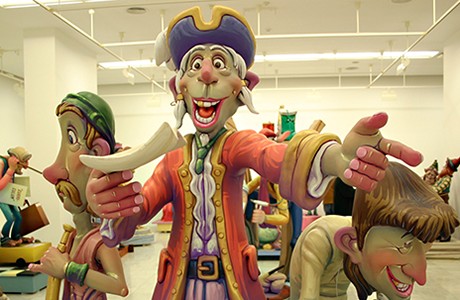 e Fallas museum is open, Tuesday to Saturday from 9:30 – 19:00 and Sundays and holidays from 9:30 – 15:00. The costs are very little as you only have to pay €2 and children from 7 to 12 only pay €1.
The Fallas in Valencia has become one of the biggest and most famous events in both Valencia as well as in the whole of Spain. The event is known all over the world, and every year a lot of tourists from all over the world come visit Spain in order to experience the Fallas in Valencia for themselves.