Where to go and what to do for your Erasmus in Valencia, a list of our most popular links!
Applying, moving and living. At whatever stage you are of your Erasmus in Valencia we have the tips and tricks of Valencia. Love Valencia posts and links all the necessary information about accommodation in Valencia, Festivals in Valencia like Fallas, and what to do in the turia park. Have a look further for our most popular quick links among Erasmus students in Valencia.
Beaches, language exchanges, clubs, accommodation.
How to get to the beaches in Valencia
If you are planning to visit Malvarrosa Beach, Valencia or Las Arenas Beach, Valencia, take either of these routes for your convenience:
Metro/Tram from Colon: Line 5 towards Maritim-Serreria then transfer to line 6 towards Tossal del Rei, stop Les Arenes or Eugenia Vines
Bus: Line 1, 2, 19, 31, or 32
To avoid confusion the names of these beaches are simply areas of the same beach, not physically on a different shore front. For more details check our page on how to get to the beaches in Valencia.
Language Exchange in Valencia

Language exchanges in Valencia are becoming an ever more popular way to learn Spanish. At a language exchange in Valencia you can expect different crowds everyday of Spaniards and internationals. Tables are set up per language, there is usually no fee attached to the language exchange in Valencia, but its always nice to buy a drink in return. Click for our page on language exchanges in Valencia everyday of the week to learn a language of your choice. Remember, most Erasmus students will need to show you can speak Spanish as part of your Erasmus in Valencia.
 Clubs in Valencia
An Erasmus exchange would not be complete without a couple nights out to celebrate. Over the past semester we have checked witch clubs in Valencia attract the most students on Erasmus in Valencia. We have written a few posts about the hottest clubs and these are still at the top of the radar in Valencia. Mya, l'umbracle, and Bolseria. Check the link to see the best clubs in Valencia.
Accommodation in Valencia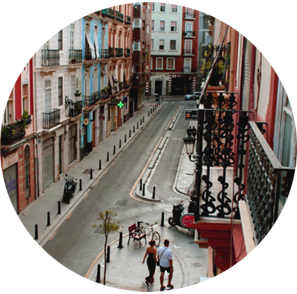 At the first stages of your Erasmus in Valencia? It is always a bit challenging to know where to get the best room for your Erasmus in Valencia. Accommodation in Valencia generally goes very fast, a typical room ranges from 150 to 350 euros a month. Have a look at the neighborhoods we would advise the most on our page about the best neighbourhoods for students in Valencia. Most students with Erasmus in Valencia look for places in L'Eixample (The city center including the new hipster center rusafa).