Marina Beach Club is a gastronomic haven in Valencia, delicious food and breathtaking views nestled on the shore of the Mediterranean.
Marina Beach Club Valencia is a haven for food lovers and beach goers. Designed by Valencian architects this leisure complex is an invitation to locals and tourists while enjoying breathtaking views of the Mediterranean sea. If for some reason you are wondering what to do in Valencia indeed feel welcomed to the Marina Beach Club. If paying a visit to the area be aware that the Oceanographic and City of Arts and Sciences Museum are just around the corner.
The Marina Beach Club in Valencia is a unique piece of art with different spaces for your complete sea experience, and wide variety of enjoyment. The Marina Restaurant in Valencia has three floors, and each one is dedicated to delivering a different experience of Valencia, open 365 days a year.
On the first floor you will discover a sea like experience, walking across a sandy wooden floor. The bottom floor is designed to host the most unique events in Valencia. The second floor is our main floor with a grand view of the Mediterranean. It can hold up to 100 people in the dinning hall and another 50 on the terrace overlooking the swimming pool; the innermost areas are also reserved for private events and meetings areas equipped with state of the art technology and services. The top floor is a terrace with spectacular views and designated for special events, a place reserved for those unforgettable moments in Valencia.
Denominación de origen is the main regulatory system (EU recognized) for rating food and drinks similar to Appellations in France. The culinary expertise of the Marina Restaurant fuses a modern, innovative and avant-garde with the true essence of traditional Mediterranean food. Artisans in various rice dishes, using fresh and local products such as the Lonja fish and meat recognized in Spain for its quality and delicacy.
Tatatami Japenese Food serves sushi dedicated to the masters of oriental kitchens to all corners of the Marina Beach Club. Both at the Marina Restaurant and the Chringuito Beach Club Pool guests can enjoy the skills of a renknown Japneese Shushi man. Their delicacy is unrivaled as some of the best sushi in Valencia.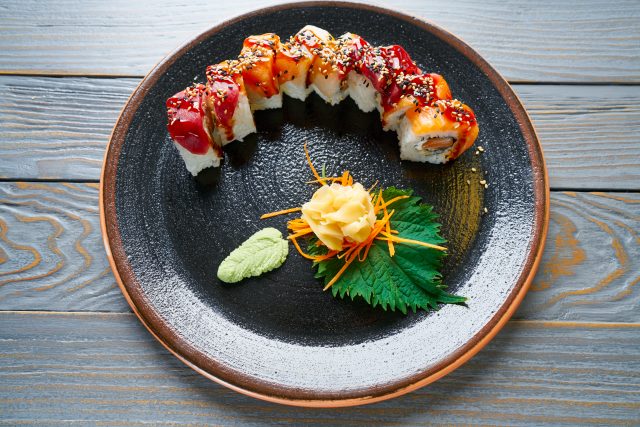 The Marina Beach club Lounge offers the best options for you to spend your weekend in Valencia. Stretch out on Thai beds along the swimming pool and enjoy the best of Deep House beats on Fridays, Saturdays and Sundays. There is no timetable for great vibes at The Marina Beach Club, consider it always open season.
A serious jaw dropper staring towards the coast off an infinity pool. The pool bar with cocktails, hamburgers, snacks, sushi, and lively service only adds to an already divine experience in Valencia.
The Chiringuito Beach Club is a beach restaurant that invites you to enjoy an array of cocktails, eat, or dine a la carte, dance the night away with the liveliness of Valencia's best DJ's, your friends, and family. We guarantee an unforgettable experience of tastes and sights, and sounds and feels this summer in Valencia, and all year round.

El Portet del Marina
Another service that Marina Beach Club offers is to eat on the beach. El Portet del Marina is a seafront restaurant with a special menu full of typical dishes of the Mediterranean gastronomy.
In El Portet del Marina you can taste fantastic rice dishes as well as fresh Valencian quality products, which can be accompanied by prestigious national and international wines. A gastronomic experience of the most pleasant in an exceptional environment.
Under a large wooden pergola, we find the restaurant. Without a doubt, it's a very special corner for a unique experience. El Portet restaurant will be open from spring to autumn.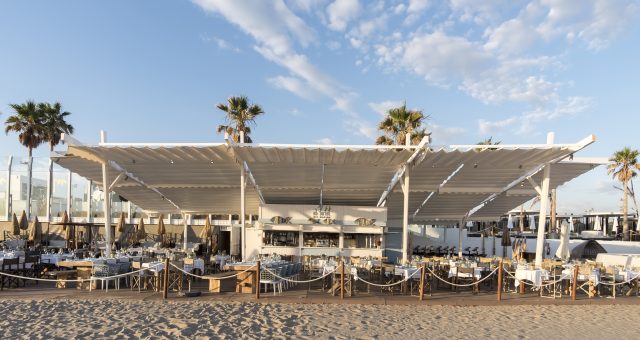 Marina Beach Club Valencia is a must see leisure experience in Valencia. We humbly propose a trip to the Marina Beach Club in Valencia when searching for things to do in Valencia. Spectacular views, delicious foods, hip , Marina Beach Club is also an invitation to Valencia, Spain.
Permission: Entrance for the restaurant and the Chiringuito is permitted for everyone. The Sky Bar, Lounge and Pool bar are 21+. Be aware that Stag and Hen parties are not prohibited as are individuals with inappropriate clothing.