Discover the most select gastronomy in Alicante in these Michelin Star restaurants
Alicante has things to do, wonderful beaches, and enchanting small towns.  But if we can just choose one thing we like the best about Alicante, without a doubt it would have to be the incredible gastronomy.  Did you know that the Spanish treat turrón comes from Alicante, along with many other traditional dishes?  Alicante is the province with highest number of restaurants with Michelin Stars in all of the Valencian community.  Enjoy high-cuisine in these incredible restaurants for a Spanish experience to remember.
Quique Dacosta
Quique Dacosta is the star chef adopted into the Valencian community. His artisanal skills are inspired by French gastronomy but executed with the charisma of Valencia, Alicante, and Castellon. His Michelin Star restaurant in Valencia received an esteemed 3 stars in 2017.  It is located between Alicante and Valencia in the small town of Dénia.
If you're looking for incredible exposure to some of the best food in Valencia, this is the place for you. As far as ratings go, Quique Dacosta is the most prestigious exhibit of Valencian gastronomy, and deemed the best restaurant in Valencia.
Serving hours are from 13:00 – 23:00, Wednesday through Sunday.
Address: Urbanización El Poblet, Calle Rascassa, 1, 03700 Dénia, Alicante
BonAmb
BonAmb offers gastronomic tradition and history straight out of Xàbia and La Marina Alta.  This restaurant likes to show its humble beginnings, evolving them and taking them to the greatest heights possible.
For this reason they use local, artisanal products to transmit their regional essence, with the same thoughtfulness in each plate.
Not to mention, the setting is right out of a dream!
Tasting Menu: from 79 to 139 euros.
Address: Carretera Benitachell, 100 – Xàbia.
L'Escaleta
L'Escaleta was born out of a family dream- but little by little, it made a name for itself in the region until it became a recognized restaurant in Spain.
This restaurant has a unique identity based on the flavors of the land.  They execute this without copying the same foods on everyone else's tables.  They always bring something new and unique to their dishes!
A cuisine thats thought-out, soothing, intimate, recognizable, and familiar- with a bit of a twist.
Tasting Menu: from 95 to 125 euros.
Address: Subida Estación del Norte, 205 – Cocentaina.
Orobianco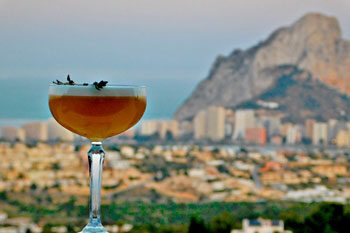 Perched on a hill, Orobianco is famous for its unopposed views of the Mediterranean and the "Peñón de Ifach", a huge limestone outcrop on the coast of the city of Calpe.
This gastronomic gem of Alicante is the only Italian restaurant in Spain with a Michelin star.  Their food is based in traditional Italian cuisine- but using reinvented ingredients.
If you are looking for an Italian restaurant in Alicante, this is without a doubt one of the best.
Tasting Menu: from 75 to 95 euros.
Address: Urbanización Colina del Sol, 67 – Calpe.
Monastrell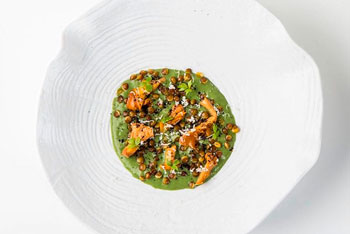 With its subtle cuisine,  made impecable and refined by María José San Román, Monastrell is one of the best restaurants in Alicante.
San Román tries to invigorate and uplift Mediterranean roots in this food.  Saffron, rice, extra virgen olive oil, and bread (which they make in house) are all created through their collective culinary vision.
This restaurant with a Michelin Star in Alicante will not disappoint.  We pinky promise.
Tasting Menu: from 66 to 115 euros.
Address: Avenida Julio Guillén Tato, 1 – Alicante.
La Finca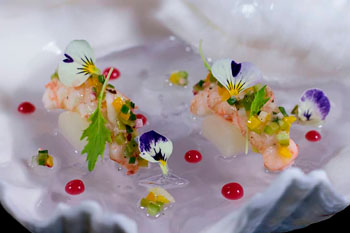 Susi Díaz is the owner and chef of La Finca.  Since a very young age, she has been interested in cooking thanks to her two grandmothers.  Without going to cooking school, she has obtained a lot of professional prestige and recognition of international critics.
La Finca's menu is characterized by citrus, aromatic herbs, and flowers cultivated in their own garden. All of these ingredients used to accompany indigenous fish and seafood.
Tasting Menu: from 79 to 119 euros.
Address: Partida de Perleta 1/7 – Elche.
El Rodat
Nazario Cano, chef at El Rodat, is the guy who takes Valencian cooking to the extreme.
The perfect combination between tradition and the future of food makes this experience full of texture, color, care- and the unknown.
As the owner says, "In El Rodat you won't sleep, you'll dream".
Tasting Menu: from 85 to 140 euros.
Address: Calle de la Murciana, 15 – Xàbia.
Beat
Enter into a place that combines sea and shore- where flavors, colors, and aromas create emotions. Eating at Beat is a relaxed and passionate visit you will not soon forget.
Jose Manuel Miguel cooks at top level, with respect to the best products that are always in season.  And not to mention, the wine menu offers more than 300 national and international options.
Tasting Menu: from 45 to 89 euros.
Address: Urbanización Marisol Park, 1 – Calpe.
Audrey's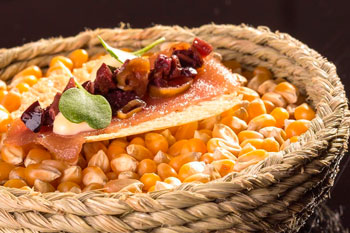 Personal style always ends up in cooking, and that's what they aim for at Audrey's Restaurant.
Signature cuisine, a warm and exclusive environment, and a Michelin star.  Elegance here is not an appearance nor a style, but a way of understanding gastronomy.  The simplicity makes for dishes that feel natural, without unnecessary adornments.  Quality is the base of everything and likeableness of this restaurant easy to recognize.
Tasting Menu: from 60 to 89 euros.
Address: Avenida Juan Carlos I, 48 – Calpe.
El Xato
In a pueblo close to Benidorm, right next to the town's church, Cristina Figueira is behind all of the magic at El Xato.  A restaurant with a Michelin Star and more than 100 years of history. Here, "tradition is not inherited, it is conquered".
The menu is full of innovative dishes and high quality food, without loosing sight of its roots.
Tasting Menu: from 52 to 68 euros.
Address: Calle Iglesia, 3 – La Nucía.
Casa Pepa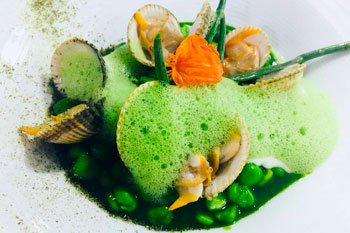 With the Mediterranean as their partner and the use of olives and oranges in all ways, the traditional gastronomy of the Marina Alta is the principal source of inspiration and passion for Casa Pepa.
First opened in 1986, the principals that sustain the cooking of Pepa still the same to this day- it's  lightness of mediterranean food, flavors of ingredients from the markets, and freshness of  in-season dishes.
Tasting Menu: from 65 to 85 euros.
Address: Partida Pamis, 7/30 – Ondara.
Difficult to choose where to eat?  Without a doubt.  Restaurants in Alicante are plentiful, but these are the best restaurants in Alicante- so whichever one you choose, we promise you'll love it.