Tapas, rices, fresh market cuisine- discover the center's best restaurants with this Top Ten list of Valencia's downtown dining
The historical center of Valencia is the heart of this city.  After visiting all of the best monuments (like the Cathedral of València, the Edificio de Corres (a beautiful post office), Plaza de la Reina, el Palacio del Marqués de Dos Aguas, or la Plaza del Ayuntamiento), you'll need to refuel.  The restaurants in the center of Valencia are of a wide variety, from typical Valencian paella ( the genuinely Authentic Paellas of Valencia you'll find here)  to popular fine dining; in the center of Valencia there is something for everyone!  Looking for food outside of the center?  You'll need to read up on this unmissable list of all Restaurants in Valencia , to learn what your best bets are for eating outside of downtown!
Vuelve Carolina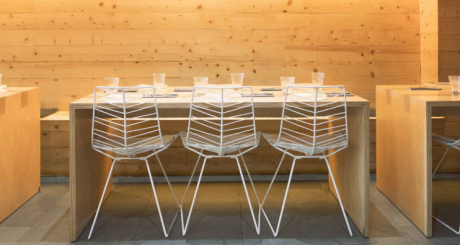 Think
traditional Spanish food with an avant-guarde twist
; under chef
Quique Dacosta, 
innovative entrées and tapas are what you'll find here.  Inside the restaurant a modern atmosphere surrounds customers;
sleek wooden walls
and
attention-grabbing pieces of art
scattered throughout the restaurant.  Without a doubt, if you're looking for a modern eatery that still tastes like Spain, Vuelve Carolina is the place for you.
Location: Calle Correos, 8
Puerta del mar
If you're looking for somewhere to eat well in the center of Valencia, Puerta del Mar will not let you down.  Puerta del Mar's hallmark is the quality of their product- evident in their wide variety of Iberian style grilled meats, fresh seafood, and rice dishes (like traditional Valencian paella and creamy lobster rice).  Food that is traditional and exquisite -and be sure to check out their lunches and menus of the day.
Location: Calle Transits, 4
Tago Mago
Tago Mago is the most elaborate addition to the Saona Group, comprised of various mediterranean restaurants in Valencia.  Here you can enjoy delicious ceviches, Peruvian dishes, Thai noodles, and sushi– all while maintaining an affordable price.   The beachy, white interior will make you feel like you've travelled far away while remaining in the beautiful Valencian center.  Your Japanese food cravings might start outside of the center as well, so our Survival Guide to Sushi in Valencia is a must-read if this food's maki-ng you crazy.
Location: Calle de Salvà, 1
La Mary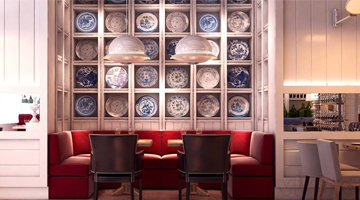 If you're looking for traditional mediterranean food straight from the market, La Mary is your best bet in the center.  La Mary has a combination of the best traditional Valencian dishes as well as dishes from afar.  We recommend their daily menus, which include appetizer, entrée, and dessert at a very fair price and with the freedom to choose from many options.  As far as ambiance, the atmosphere is elegant yet light and inviting, making your entire experience unforgettable.
Location: Calle Félix Pizcueta 6
Rebir by Paprika
Healthy cooking made with organic ingredients from local farms.  Rebir by Paprika offers pastas, rices, meats, salads, and more, all with a healthy touch.  Our personal recommendation?  The homemade cakes.  Paprika is the best healthy restaurant you can find in the center of Valencia.  If you're looking for more healthy restaurants, check out this Vegan Food in Valencia!
Location: Avenida Barón de Cárcer, 41
 Pelayo Gastro Trinquet
This restaurant is an elaborate redesign from the original Trinquet Pelayo; and under the commands of chef Pablo Margós offers modern cuisine from quality local ingredients.  The interior design is natural and wholesome; combine that with the undoubtedly Spanish food and this restaurant pays great homage to this Valencian city center.  
Location: Calle Pelayo, 6
Lateral Patriarca
Known for their locations in Madrid, Lateral Patriarca is Valencia's downtown location of this famously chic dining establishment.  Lateral offers all of the best pinchos, cocktails, and specials at a fair price.  Too hungry to wait for lunch or dinner?  Lateral also offers typical Spanish breakfasts at this location!  Enjoy any meal of the day in this modern, vibrant atmosphere and you are sure to leave wanting more.
Location: Plaza del Colegio del Patriarca, 6
Hard Rock Cafe Valencia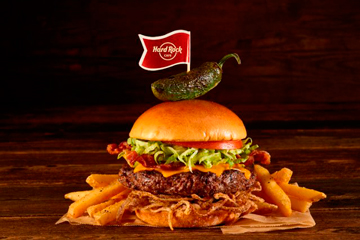 If you're looking for something a little different, why not an authentic American meal at the world famous Hard Rock Cafe!  Here you'll find hamburgers, cocktails, desserts, and even a menu for the kids.  All of this food you can enjoy as you're surrounded by memorabilia from your favorite rock artists and live music performances.  And for a souvenir to remember your trip, the Hard Rock Shop will not let you down.  Rock on!
Location: Situado entre la Estación del Norte y la Plaza del Ayuntamiento
Vino Tinto
Right behind the center's Town Hall lies a special restaurant that's a must-see for all wine lovers visiting Valencia.  The appetizers, pinchos, and desserts will surprise you in the best way.  The Menu of the Day will let you try multiple dishes in the same meal.  If you're looking for something more intimate, the reserved space at Vino Tito is perfect for meetings and gatherings; not to mention, you'll get a unique menu for the group!
Location: Calle San Vicente Màrtir, 44
Commo Fusión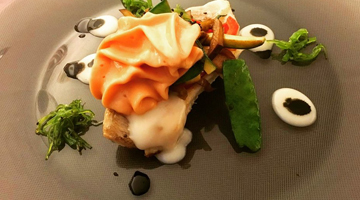 Commo Fusión is the best Peruvian restaurant in Valencia.  Taste many types of ceviche, yellow chili pepper, beef stir fry, or causa limeña, a typical Peruvian starter. All of the dishes at Commo Fusión involve a Mediterranean twist, hence the Fusion.  Their Menu of the Day is very fairly priced, so there's no excuse to not eat well just because you're in the center.
Location: Calle Pascual y Genís, 3