Our Must-See List of where you can eat the Best Kebabs in Valencia!!
If you're strolling through the streets of Valencia you will be hard pressed to not find a Doner Kebab on almost any main street.  These restaurants are great for grabbing a quick bite to eat that is both comfortably filling and delicious.  However, when there are so many to choose from, how should you pick which to go to?  That's where we come in- here are some of the best places in Valencia to eat Kebabs.  If you're curious about the best (non-kebab) restaurants in Valencia, check out our survival guide using the link.
Kebab Bolseria
The Kebab Bolseria is run by a Turkish family and has an excellent service and food quality. Everything is very delicious and at a good price- try out the baklava for a special treat after your meal- it consists of nuts, honey, and filo dough.  This restaurant has something for everyone!  Not to mention, it's right in the heart of El Carmen so you can explore other places to eat and adventure while you're there!
Amigo Doner Kebab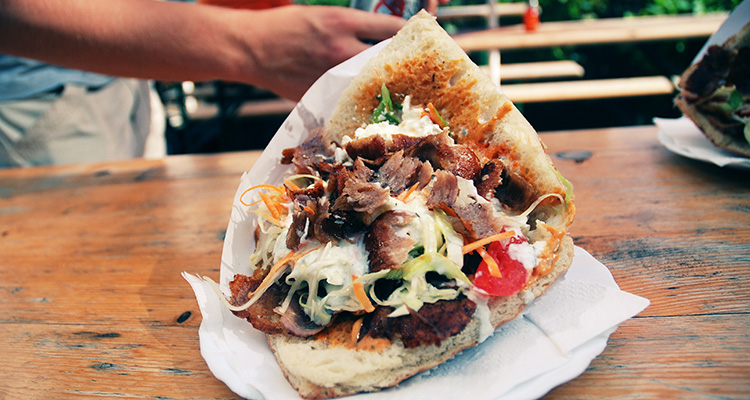 This restaurant is characterized by its excellent food quality and service. It's the perfect stop after a night out with your friends or an after-work snack. Located just outside the city center and a bit closer to the beach area, it is a great stop for anyone who lives or stays there. If you are looking for a delicious kebab, Amigo Doner Kebab is a great choice. Even if you are locked at home and you want a kebab, you can always order one through the Deliverer service. It will deliver it directly to your door.
Suleman
Suleman is a simple yet delicious Kebab in Ruzafa, with many options for dietary needs and offers delivery.  You can order from them on Glovo and they'll deliver right to your house!  They also have a menu of vegetarian kebabs so you can get all of your dietary needs met right here in Valencia!  Many of their dishes come at a great price and the location is great for getting food after a night out in Ruzafa.
Simple Kebab
Here you are guaranteed quality food that gives you bang for your buck.  If you're looking for vegan kebabs in Valencia Simple Kebab also offers falafel, a vegan kebab, and fries.  Even if you don't like kebabs, they also offer things like pizza and hamburgers. It is right by Turia Gardens, so you can come it dinner for 4 euros right after a walk in the park.